In Vitro Genotoxic Effects of Sarcocystis gigantea Cystizoites Acetone Powder Extract on Sheep Lymphocytes
Saad M H Bayati

Duhok Polytechnic University, Duhok Technical Institute, Iraq
Keywords:
Sarcocystis, genotoxic, acetone powder, in vitro
Abstract
The toxin of the protozoan intracellular parasite of sheep Sarcocystis gigantea is associated with many clinical and pathological signs. The aim of the study was to investigate In Vitro various chromosomal aberrations due to sarcocystosis infection. Macrocysts of Sarcocystis gigantea were isolated from local karadi sheep, homogenized with glass Dounce homogenizer; acetone powder was prepared from it and used in various concentrations to investigate the chromosomal aberration in vitro against sheep lymphocytes. The direct effects of parasite cystizoites acetone powder revealed various genotoxicity effects. These effects included chromosomal aberration (Isogap, Breaks and Dicentrics) and chromatids aberration (Gap and Deletion). It had also an effect on the mitotic index of the lymphocyte cells division. These genotoxicities were studied for the first time with in vitro technique using sheep lymphocytes. These results reflected that Sarcocystis gigantean parasite could cause structural and internal aberration in the chromosomes of their hosts.
Downloads
Download data is not yet available.
References
Gjerde B, de la Fuente C, Alunda JM, Luzón M. Molecular characterization of five Sarcocystis species in domestic sheep (Ovis aries) from Spain. Parasitol Res. 2020; 119:215–231.
Mavi AS, Teimouri A, Mohebali M, Yazdi SMK, Shojaee S, Rezaian M, et al. Sarcocystis infection in beef and industrial raw beef burgers from butcheries and retail stores: A molecular microscopic study. Heliyon. 2020; 6(6): e04171.
Tietz HJ, Montag T, Brose E, WideraP, Sokolowska-Kohler W, Mann W, et al. Interactions between Sarcocystis gigantea lectin and toxin-containing fractions in human lymphocyte cultures. Parasito Res. 1989; 76(1): 32–35.
Vangeel L. Bovine Sarcocystis species and their role in Bovine Eosinophilic Myositis. [dissertation]. Ghent city of Belgium: Ghent University; 2012.
Maky MA, Mohammed ES. Molecular identification of Sarcocystis spp. In meat and meat products in Qena, Upper Egypt. J. Anim. Health Prod.2021; 9(1): 88-93.
AL-Amery AMA. Effect of sarcocystosis infection on cytogenetic peripheral blood lymphocytes in ewes. Adv. Anim. Vet. Sci. 2015; 3(9): 473-477.
AL-Amery AMA.Evaluate micronuclei in the peripheral blood lymphocytes of Sarcocystosis infected ewes. Int. j. res. dev. pharm. l. sci. 2015; 5(1): 1929-1933.
Tietz HJ, Montag T, Volk HD, Brose E, Gantenberg R, Weichold FF, et al. Activation of human CD4+ and CD8+ cells by Sarcocystis gigantea lectin. Parasitol Res. 1991; 77(7): 577–580.
Al-Hayali N, Aljawady M, Fakhri M. The Influence of some physiochemical properties of sarcotoxin in rats. J Anim Vet Adv. 2010; 9: 302-305.
Al-Hyali NS, Al-Taee AF. Toxicity of Sarcocytis gigantea detected from sheep in Ninevah governorate. IJVS. 2007; 21(2): 229-243.
Lu R, Miyakoshi T. Studies on acetone powder and purified Rhus Laccase immobilized on zirconium chloride for oxidation of phenols. Enzy Res. 2012; 1–8.
Parryand JM, Arlett CF editors. Comparative Genetic Toxicology. The Second UKEMS Collaborative Study, United Kingdom, VCH, Deerfield Beach, F: Palgrave Macmillan, London; 1985. Asquith JC, Hogan LK, Fullwood JN, Rae JD, Kirkland DJ. A comparison of the chromosome damaging effects, in cultured human lymphocytes, of benzidine (BZD) and 4,4'-diaminoterphenyl (DAT) in presence of aroclor induced and uninduced rat liver S9; Chapt 42: p. 355-362.
Šutiaková I, Šutiak V, Tulenková M. Analysis of sheep lymphocyte chromosomal aberrations after exposition to chlortetracycline. J Environ Prot.2013; 4:38-42.
Proudlock R (editor). Genetic toxicology testing laboratory manual. 1st ed. Elsevier Inc. USA. Academic Press 2016. p 207-267
Shubber EK, Jaafer ZT, Tawfeek AA, Sebbah MI. Cytogenetic analysis of goat blood lymphocytes cultured In Vitro. JBRC (special edit). 2010;4(1):85-91.
Ahmed M, Al-JebooriT, Juma A. Study the role of some Types of T Lymphocytes in Toxoplasmosis. J Microbiol Exp. 2017; 4(2):00107.
Mills MC, Barban N, Felix C. An introduction to statistical genetic data analysis.MIT Press. 2020.
Rong L, Tetsuo M. Studies on acetone powder and purified Rhus laccase immobilized on zirconium chloride for oxidation of phenols. Enzy Res. 2012; 2012: |Article ID 375309 |https://doi.org/10.1155/2012/375309
Morton RK. [6] Methods of extraction of enzymes from animal tissues. Meth Enzy. 1955; 1:25–51.
Al-Hyali NS, Khalil LY, Aljawady MA. Sarcotoxin effect on leukocytic finding and phagocytic activity in mice. J Anim Vet Adv. 2009; 11:2395-2398.
Montag T, Tietz H, Brose E, Liebenthal C, Mann W, Hiepe T, et al. The mitogenicity of extracts from Sarcocystis gigantea macrocysts is due to lectin(s). Parasitol Res. 1987; 74(2): 112–115.
Tietz HJ, Montag T, Brose E, Hiepe T, Mann W, Hiepe F, et al. Extracts from Sarcocystis gigantea macrocysts are mitogenic for human blood lymphocytes. Angew Parasitol. 1986; 27(4):201-6.
Juma ASM, Mohammed AH, AL-Jeboori TI. Cytogenetic studies on lymphocytes isolated from women with a history of abortion infected with Toxoplasma gondii. Erbil Sci. Jour. 2017; (Special-2):5-13.
Al-Ubaidi AHMA, Al-Jeboori TI, Juma ASM. Peripheral blood lymphocytes proliferation assays in patients with hydatid disease (Echinococcus granulosus). Iraqi J Med Sci. 2004; 3(2):140-143.
Khaled IA, El-Ansary MS, Saleh AF. Cytogenetic study of the effect of Schistosoma mansoni infection on human peripheral blood lymphocytes and the role of β-carotene and vitamin E in modulating this effect. Mol Biol Rep. 2011; 38: 4101–4109.
Perucatti A, Di Meo GP, Albarella S, Ciotola F, Incarnato D, Jambrenghi AC, et al. Increased frequencies of both chromosome
abnormalities and SCEs in two sheep flocks exposed to high dioxin levels during pasturage. Mutagenesis. 2006; 21(1):67-75.
Ali ZS, Khudair KK. Synthesis and characterization of silver nanoparticles using Nigella sativa seeds and study their effects on the serum lipid profile and DNA damage in rats' blood treated with hydrogen peroxide. Iraqi J. Vet. Med. 2019; 43(2):23-37.
Cavallo D, Ursini CL, Rondinone B, Iavicoli S. Evaluation of a suitable DNA damage biomarker for human biomonitoring of exposed workers. Environ Mol Mutagen. 2009; 50(9): 781–790.
Mozdarani H, Hejazi A, Hejazi P. Chromosomal aberrations in lymphocytes of individuals with chronic exposure to gamma radiation. Arch Irn Med. 2002; 5(1):32-36.
Hook GJ, Heddle JA, Marshall RR. On the types of chromosomal aberrations induced by 8-methoxypsoralen. Cytogenet Cell Genet. 1983; 35(2):100-3.
Dkhil M, Tohamy A, Gabry M. Chromosomal aberrations induced in bone marrow cells of mice due to the administration of the non-steroidal anti-inflammatory drug, Piroxicam. Afr J Pharm Pharmacol. 2011; 5(1): 93-103.
Das L, Das SK, Hooberman BH, Chu EH, Sinsheimer JE. Chromosomal aberrations in mouse lymphocytes exposed in vitro and in vivo to benzidine and 5 related aromatic amines. Mutation Res. 1994; 320(1-2):69-74.
Alsatari ES, Azab M, Khabour OF. Assessment of DNA damage using chromosomal aberrations assay in lymphocytes of waterpipe smokers. IJOMEH. 2012; 25: 218–224.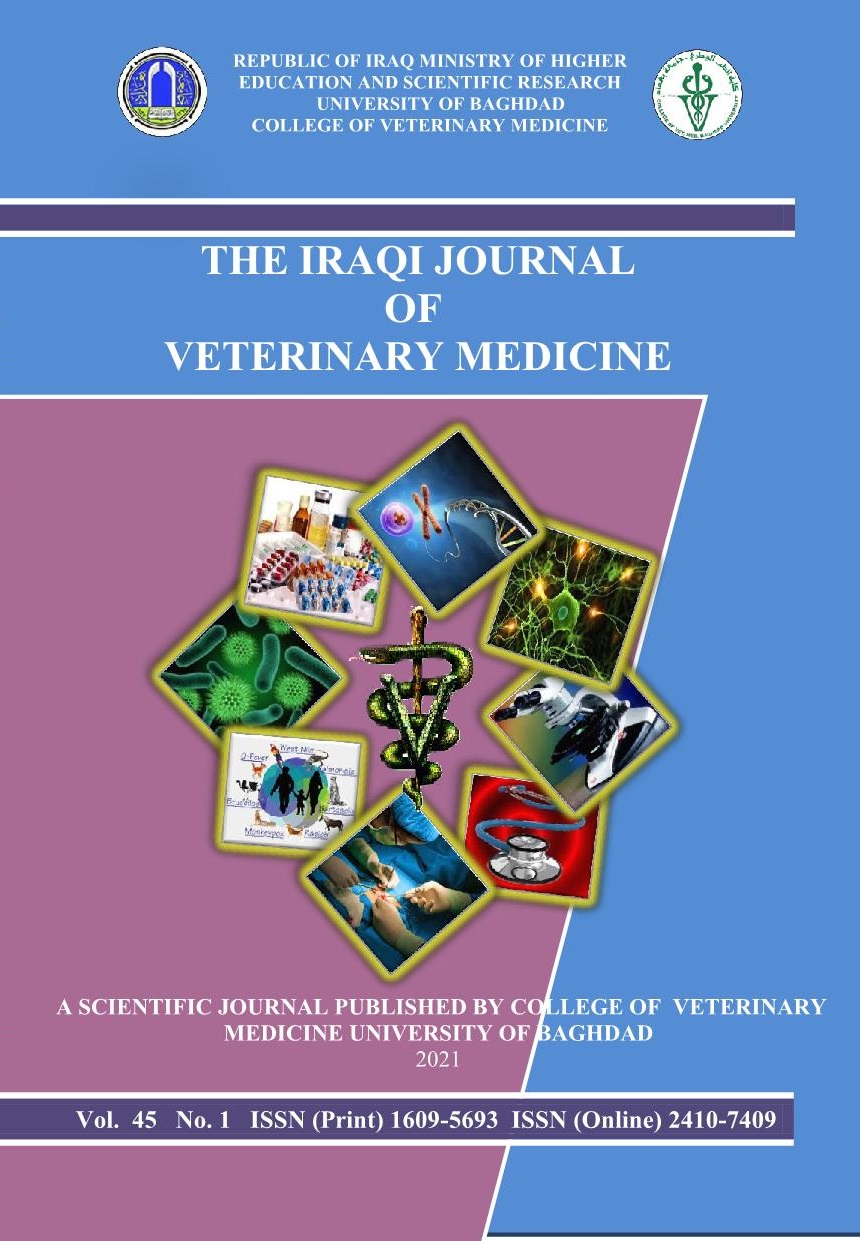 Correspondence:
[email protected]
Received: 1 April 2021
Accepted: 3 May 2021
Published: 28 June 2021
How to Cite
Bayati, S. (2021). In Vitro Genotoxic Effects of Sarcocystis gigantea Cystizoites Acetone Powder Extract on Sheep Lymphocytes. The Iraqi Journal of Veterinary Medicine, 45(1), 41-45. https://doi.org/10.30539/ijvm.v45i1.1039