The Role of Oily and Methanolic Extracts of Phoenix Dactylifera Leaves in Ameliorating CCl4 Cytotoxicity in Male Rats
Saadia S.M. Al-Zeiny

College of Veterinary Medicine, University of Kufa, Iraq,

Falah M.K. AL-Rekabi

College of Veterinary Medicine, Baghdad University

Ahmed sh. j. Al-rekabie

College of Veterinary Medicine, Baghdad University

Duraid A. Abbas

College of Veterinary Medicine, Baghdad University
Keywords:
phoenix dactylifera, leave, dry date, oxidative stress, antioxidant, cytogenetic
Abstract
The study was performed to investigate the protective effect of different methanolic and oily extracts of leave and dry date of Phoenix dactylifera against oxidative stress induced by CCl4 on 49 Sprague-Dawley male rats weighed 175-200 g and aged 6-8 months. The animals were equally divided into 7 groups and assigned as follows: G1, administered 0.1 mL distilled water orally and considered control negative group (C-ve); G2, administered 0.1 mL/100 g BW corn oil (CrO); and G3 administered 100 mg/kg BW CCl4 orally for induction oxidative stress and considered control positive group (C+ve). The other four groups were initially administered 100 mg/kg BW CCl4 for oxidative stress induction and treated for two months as follows: G4, treated orally by 100 mg/kg BW of date methanolic extract (DME); G5, treated orally by 150 mg/kg BW of leaves methanolic extract (LME); G6, treated by 250 mg/kg BW date oily extract (DOE); while G7, treated by 250 mg/kg BW leaves oily extract (LOE). At the end of two months experiment, the animals were scarified, and their femurs removed for cytogenetic examination. results showed that only CCl4 group had significant increase (P< 0.05) increase 5.1±0.5 compared to negative control and all treated groups. CCl4 group also recorded clear increasing in percentage of chromosome aberrations including diverse types in bone marrow cell compared to rat groups treated by date and leaves methanolic and oily extracts and negative control groups. It could be concluded that the treatment with different palm date and leaves extracts failed to overcome the genotoxic effect of CCl4 completely. Possibly, because CCl4 dosed for extended period (2 months) might cause extensive cell and genetic damages could be opposed antioxidants presented in the different palm extracts recording some but lesser chromosomal aberration compared to that CCl4 treated group.
Downloads
Download data is not yet available.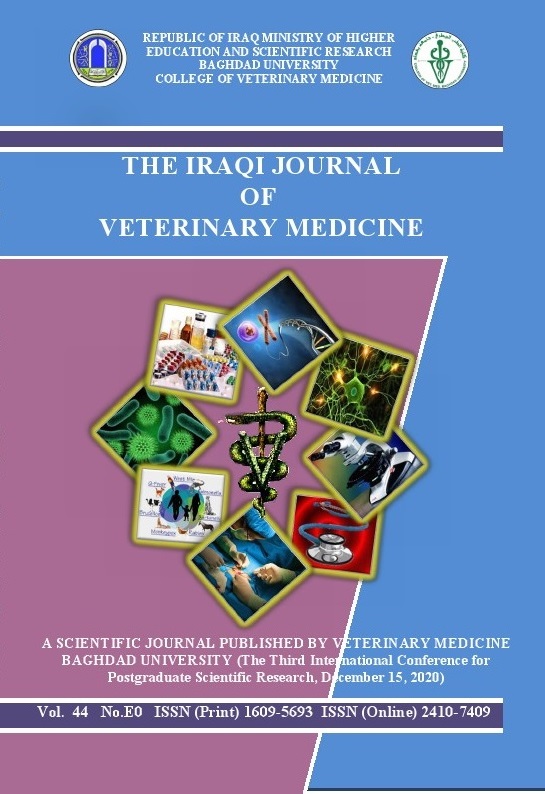 How to Cite
Al-Zeiny, S., AL-Rekabi, F., Al-rekabie, A., & Abbas, D. (2020). The Role of Oily and Methanolic Extracts of Phoenix Dactylifera Leaves in Ameliorating CCl4 Cytotoxicity in Male Rats. The Iraqi Journal of Veterinary Medicine, 44((E0), 88-93. https://doi.org/10.30539/ijvm.v44i(E0).1027