Trichomonas gallinae Identification and Histopathological Study in Pigeon (Columba livia domestica) in Baghdad City, Iraq
Layla T. Fadhil

College of Veterinary Medicine, Baghdad University

Azhar A. Faraj

College of Veterinary Medicine, Baghdad University

Amer M. AL-Amery

College of Veterinary Medicine, Baghdad University
Keywords:
rabbits, Trichomoniasis, avian disease, histopathological changes, Columba livia domestica
Abstract
Trichomonas gallinae causes avian trichomoniasis, which is one of the most common protozoan infections in birds worldwide. Therefore, this study was conducted to investigate and identify the Trichomonas gallinae in domestic pigeons (Columba livia domestica) by microscopic examination (direct smear and Giemsa stain) and histopathological examination in Baghdad city, Iraq, during the period from beginning of October 2018 to end of March 2019. Giemsa-stained cytoplasm with light purple and nucleus with dark purple, clarification of flagella, nucleus, and cytoplasm very well. Histopathological findings of infected birds showed gross existence of yellowish white caseous necrotic material in the oral cavity and esophagus. The histopathological examination in the larynx, esophagus, trachea, crop, liver, and lung as infiltration of inflammatory cell mainly (heterophils); thickening of mucosa because of extensive infiltration of heterophils and disruption of esophageal gland; the thickness in bronchi wall of lung due to glandular hyperplasia and muscular fibroplasia, in liver focal necrosis of parenchyma with mononuclear cell (MNCs) infiltration and granuloma composed of MNCs and heterophils. The current study may contribute in determining the histopathological changes of esophagus, trachea, crop, and liver of trichomoniasis- infected pigeons.
Downloads
Download data is not yet available.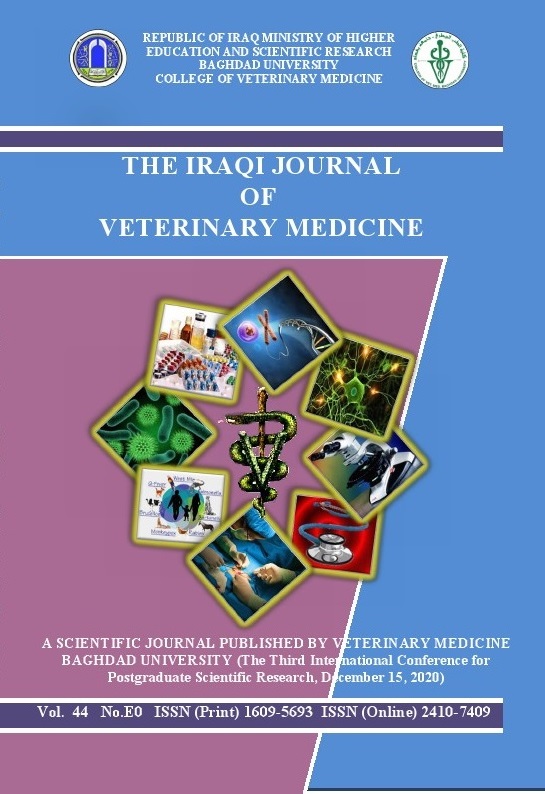 How to Cite
Fadhil, L., Faraj, A., & AL-Amery, A. (2020). Trichomonas gallinae Identification and Histopathological Study in Pigeon (Columba livia domestica) in Baghdad City, Iraq. The Iraqi Journal of Veterinary Medicine, 44((E0), 57-63. https://doi.org/10.30539/ijvm.v44i(E0).1022