Survey and Molecular Study of Babesia gibsoni in Dogs of Baghdad Province, Iraq
Naseir M. Badawi

College of Veterinary Medicine, Baghdad University

Afaf A. Yousif

College of Veterinary Medicine, Baghdad University
Keywords:
epidemiological, molecular, Babesia gibsoni, Iraq
Abstract
This study aimed to detect Babesia gibsoni (B. gibsoni) in dogs of different ages, sex and breeds in Baghdad province by microscopic and molecular investigations using polymerase chain reaction (PCR), sequencing, and phylogenetic analyses. The present study was investigated B. gibsoni in 310 blood samples of dogs for the period December 2018 to September 2019 in Baghdad province, Iraq. The molecular study was carried out by using universal primers of Babesia spp. (PIRO-A and PIRO-B) and specific primers of B. gibsoni (BAGIF and BAGIR) products size of 410 bp and 488 bp fragments of 18S rRNA gene respectively. The clinical signs revealed higher percentage and specific clinical signs of B. gibsoni as depression, anorexia, fever, pale mucus membrane, and ticks infestation, however icterus, and dead were low in which only occurred in two dogs out of infected dogs. The PCR assay and microscopic diagnosis revealed the infection rate of B. gibsoni 9 out of 310 (2.9%) in dogs. The sequence data analyses of nine DNA products were 98-100% similar to sequences of 18S rRNA gene of B. gibsoni data available in Gene bank. According to breed, age, and sex, the results revealed a significantly high-risk factor of infection in Husky dogs; B. gibsoni detected in females which was increased non-significantly than males; while the highest occurrence of disease was in young dogs aged three years or less in addition to the above, the infection rate of B. gibsoni was high in the spring season. In conclusion, this study was considered the first molecular record of B. gibsoni in Baghdad, Iraq documented no differences in diagnosis by blood smear and conventional PCR to amplify of 18S rRNA gene and partial sequencing of B. gibsoni with low-cost method and easily done.
Downloads
Download data is not yet available.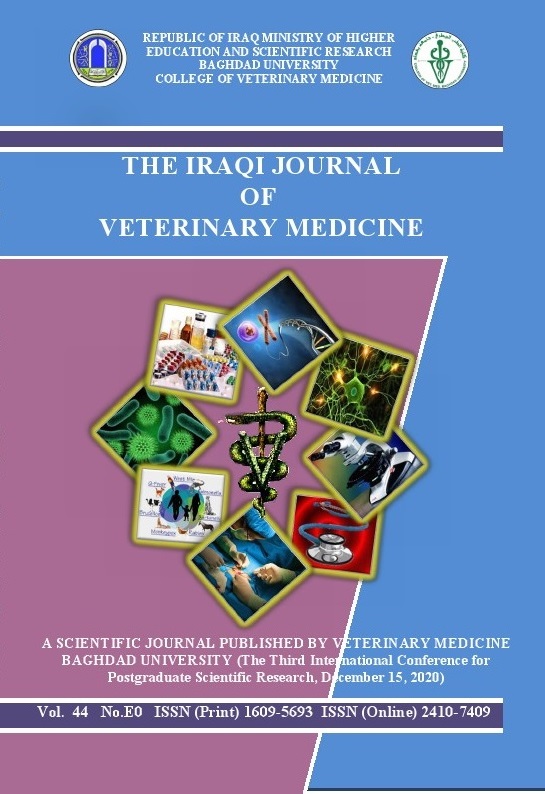 How to Cite
Badawi, N., & Yousif, A. (2020). Survey and Molecular Study of Babesia gibsoni in Dogs of Baghdad Province, Iraq. The Iraqi Journal of Veterinary Medicine, 44((E0), 34 - 41. https://doi.org/10.30539/ijvm.v44i(E0).1019