Genetic Diversity and Molecular Characterization of Mosquitoes (Diptera: Culicidae) In North-Central Nigeria Using Ribosomal DNA ITS2 and Mitochondrial 16S-DNA Sequences
Oluyinka A. Iyiola1*, Rahmat D. Shaibu1, Olalere Shittu2, Olukayode J. Adelaja3, Aishat T., Kamaldeen-Ibrahim1, Temitope O., Fadipe4, Ademola E. Alaba1, 5, Seun F. Adejuwon1, Bashirudeen O. Oyinlola1
Oluyinka A. Iyiola

1Cell Biology and Genetics Unit, Department of Zoology, University of Ilorin
Keywords:
Aedes, Anopheles, Culex, Internal Transcribed Spacer Gene, Genetic diversity, Mitochondrial, Ribosomal DNA
Abstract
Mosquitoes are vectors of various life-threatening diseases like malaria, yellow fever, dengue fever etc. Their close proximity to human habitations allows ease for disease transmission. They have been identified by key morphological tools like their wings, legs, bristles etc. but closely related species are difficult to identify based on morphology. Molecular tools have, therefore, been employed to help with the more accurate identification. This study was aimed at identifying and characterizing different mosquito species in five different states in North-Central Nigeria using internal transcribed spacer 2 (ITS2) and mitochondrial 16S rDNA regions. Mosquito larvae were collected from stagnant water in breeding places at each collection site in North-central Nigeria. Morphological identification was carried out using standard keys. DNA extraction was performed using EZNA extraction kit. PCR amplification of ribosomal ITS2 and mitochondrial 16S-rDNA gene regions were carried out. The PCR amplicons were sequenced using primers initially used for the PCR. Sequence data were aligned in MEGA 6.0 using ClustalW multiple alignment feature and then compared with GenBank databases for similarity.  Phylogenetic analysis of DNA sequences from the ITS2 region was able to distinguish two mosquito subfamilies; Anophelinae and Culicinae as well as differentiate between and amongst Culex and Aedes species. However, it was unable to effectively distinguish between the two different species of Anopheles sequenced. Mitochondrial 16S rRNA marker was also able to distinguish the two mosquito subfamilies. It efficiently identified and differentiated Culex, Aedes and Anopheles mosquito species sequenced in this study. This study concludes that heterogeneity among Nigerian populations of Anopheles mosquitoes of may likely impact malaria vector control programs. We recommend the combination of nuclear and mitochondrial markers for effective and reliable phylogenetic study and determination of evolutionary relationship among mosquito species.
Downloads
Download data is not yet available.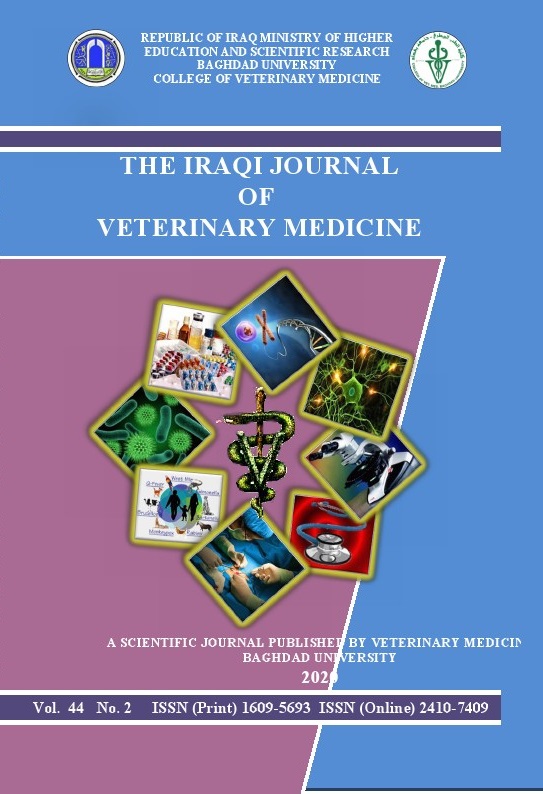 How to Cite
Iyiola, O. (2020). Genetic Diversity and Molecular Characterization of Mosquitoes (Diptera: Culicidae) In North-Central Nigeria Using Ribosomal DNA ITS2 and Mitochondrial 16S-DNA Sequences. The Iraqi Journal of Veterinary Medicine, 44(2), 78-91. https://doi.org/10.30539/ijvm.v44i2.985