Efficacy of Nano Composite Porous 3D Scaffold of Crab Shell and Al-Kharit Histological and Radiological for Bone Repair in Vivo
Saad H. Zebon1, Mohammed J. Eesa2and Bahaa F. Hussein3
Saad H. Zebon

Ministry of Agriculture, Veterinary Directorate, Veterinary Hospital in Missan Iraq, Iraq.
Keywords:
Crab shell, Al-kharit, 3D porous scaffold, Dogs, Tissue Engineering.
Abstract
The present study was conducted to evaluate the effect of scaffold fabricated from Nano crab shell and Al-kharit (Papyrus Vaccine) for enhancing the healing of the experimentally induced bone defect in dogs. For this purpose, twenty healthy adult mongrel dogs were used in this study which divided randomly into two equal groups, under general anesthesia, 1 cm bone gap was created in the distal part of the tibia, that fixed by bone plate and screws. Nano crab shell scaffold was implanted. All experimental animals showed normal situation without any infection at the site of operation, while the radiography showed a periosteal and endosteal reaction. Moreover, the gaps were bridged faster in the treated group as compared with the control group. Treated animals showed new bone formation which represented by obvious lamellar bone, haversian canal and osteocyte cells in 90 days. In conclusion, the Nano crab shell scaffold gave better acceleration in the bone healing process, also this scaffolds may provide insight into the clinical repair of large bone defects
Downloads
Download data is not yet available.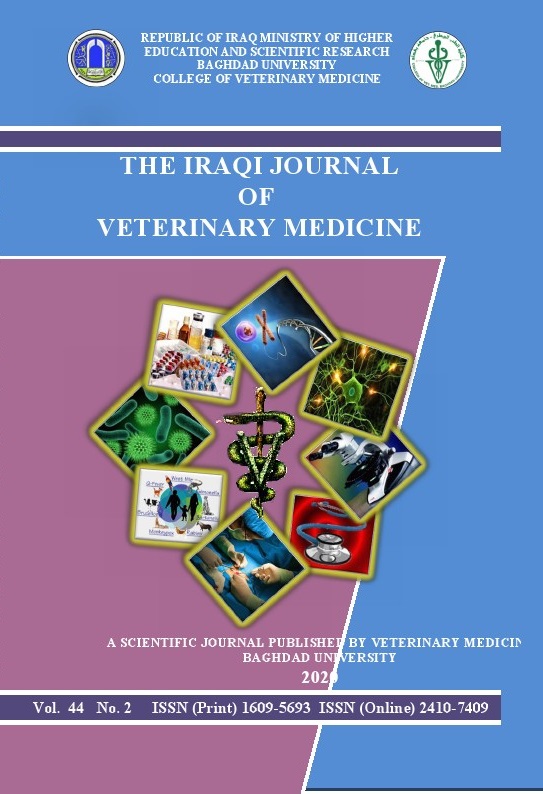 How to Cite
Zebon, S. (2020). Efficacy of Nano Composite Porous 3D Scaffold of Crab Shell and Al-Kharit Histological and Radiological for Bone Repair in Vivo. The Iraqi Journal of Veterinary Medicine, 44(2), 15-24. https://doi.org/10.30539/ijvm.v44i2.973