Evaluation of selected parameters of rat liver injury following repeated administration of oseltamivir for different periods
Falah Muosa Kadhim Al-Rikabi

College of Veterinary Medicine, Baghdad University
Keywords:
Oseltamivir, Liver injury ,Rat.
Abstract
The effects of oseltamivir administration, an anti influenza viruses A and B, on some
functional parameters of rat liver were investigated, to evaluate the possible hepatotoxic
effect. Eighteen (18) wister male albino rats with body weight ranged 150-190 gm were
divided into three groups, the first group(T1) was treated orally with 1mg/kg.BW as
therapeutic dose of Oseltamivir for 7consuctive days. The second group (T2) was
treated with the same dose for six weeks, while the control group dosed distill water.
The results revealed, there was a significant increase in the onset of barbiturate sleeping
time and a significant p ≤ 0.05 decrease of the duration of barbiturate sleeping time of
the T2 rats . The liver enzymes activity revealed a significant decrease in ALT in T1
rats and significant increased p<0.05 in the T2 rats, while the AST activity showed only
significant increased p<0.05 in the T2 treated rats. The activity of ALP was p<0.05
significantly increased in the rats of treated groups. The blood sugar was significantly
decreased p<0.05 only in the T2rats. Cholesterol level was significantly p<0.05
increased in T2 treated rats, while the serum of both treated groups showed a
significantly increase p<0.05 in the triacylglycerol concentration.
The HDL level was significantly decreased p<0.05 only in theT1 rats. The treated T2
rats showed a significant decrease p<0.05 in the LDL, while the VLDL level revealed a
significant increase p<0.05.The total serum protein level was significantly increased
p<0.05 in the rats of T2. Liver histopathological lesions of the T1rats revealed large
amount of suppurative exudates, severe dilation and congestion of central veins and
sinusoids with activation of kupffer cells. The liver of T2 rat showed multiple areas of
focal necrosis, fibrous thickening of Glisson capsule with vacuolar degeneration of
hepatic parenchyma. In:conclusion, Oseltamivir has hepatotoxic effect in rats treated
with therapeutic dose 1mg/ kg.BW. orally in different periods.
Downloads
Download data is not yet available.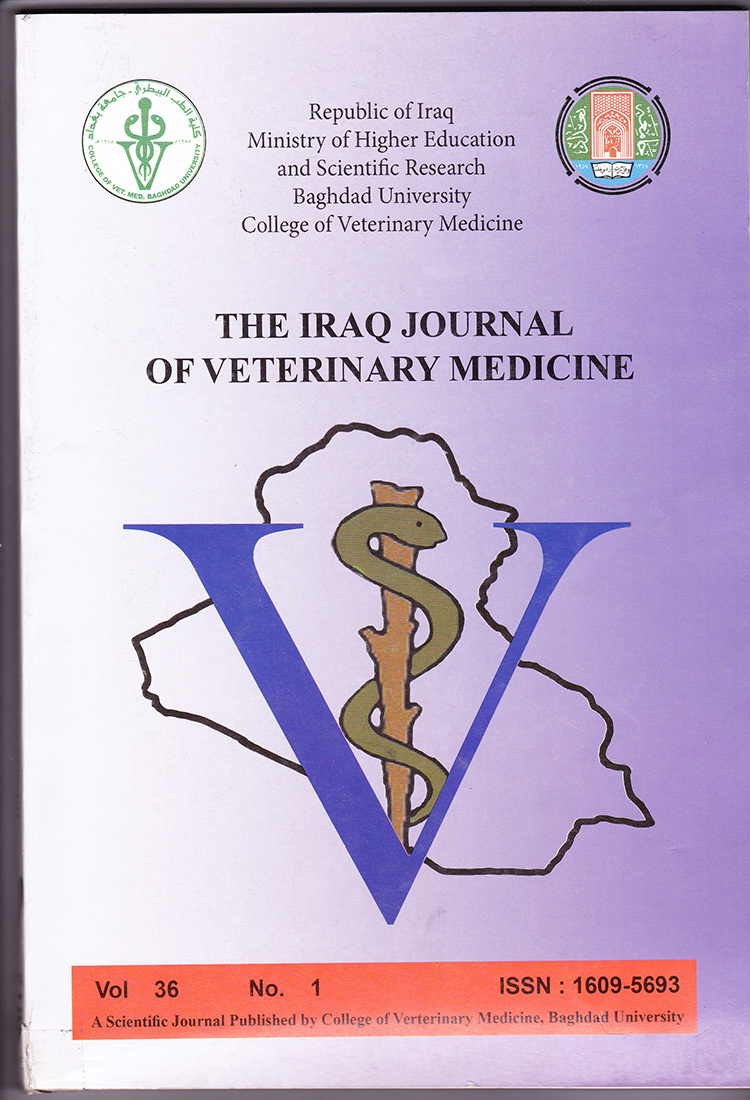 How to Cite
Al-Rikabi, F. (2012). Evaluation of selected parameters of rat liver injury following repeated administration of oseltamivir for different periods. The Iraqi Journal of Veterinary Medicine, 36(1), 145-156. https://doi.org/10.30539/iraqijvm.v36i1.559