Effect of Bay leaves (Laurus nobilis) Plant Extracts as Anti-Oxidant on Crud Sun flower Oil
Saba J. Ajeena

College of Veterinary Medicine, Baghdad University
Keywords:
Laurus nobilis, Plant Extracts, Anti-Oxidant, Sun flower Oil.
Abstract
This investigation was carried out to study the Bay leaves (Laurus nobilis) and extracted three types of Aqueous, Ethanolic alcohol, Essential oil extracts of leaf plant powder study. The performance of extracts as anti-oxidant agent were evaluated by estimate the value of Thiobarbituric acid (TBA) of sunflower oil to these extracts in concentrate% 0.04 and %0.02 compared with commercial antioxidant BHA (Butylated hydroxyl anisole) and BHT (Butylated hydroxyl toluene) in concentrate % 0.02 , in addition to the control sample (of crude sunflower oil without any additives) during 16 days storage at 60 C. The results showed an increase in the TBA values in sunflower oil, crude and stored in during storage at 16 days in 60 C. Some extracts laurels showed high anti-oxidant activity and more than commercial antioxidants (BHT) and (BHA). The results of the TBA transactions for crude extracts of plant concentration% 0.04 most efficient overall transactions in concentration % 0.02, aqueous extract of bay leaves in the concentration of % 0.04 showed high activity as
an antioxidant with 2.88 mg Malonaldehyde / kg oil TBA value in the 16th and the last day of storage time in 60 C, while the TBA values of the rest of the coefficients of crude sunflower oil translate with plant extract :essential oil ethanolic alcohol and water extract in the concentration of 0.02% were 4.04, 3.39, 3.12 mg Malonaldehyde / kg oil, and in the concentration of 0.04% for essential oil ethanolic alcohol treatment were 4.01 and 2.29 mg Malonaldehyde / kg oil , respectively in the last day of storage, either control and commercial antioxidants BHA and BHT reached TBA values of crude oil 6.88, 3.16 and 3.50 mg Malonaldehyde/kg oil, respectively, in the same day of storage. Was estimated as the content of plant nutrients and mineral major and minor, were detected. Chemical quality of the active chemical compounds of plant leaves, which included tannin, Alclaicosadat, Alsabonyat, resins, phenols, flavonoids and alkaloids were evaluate to.
Downloads
Download data is not yet available.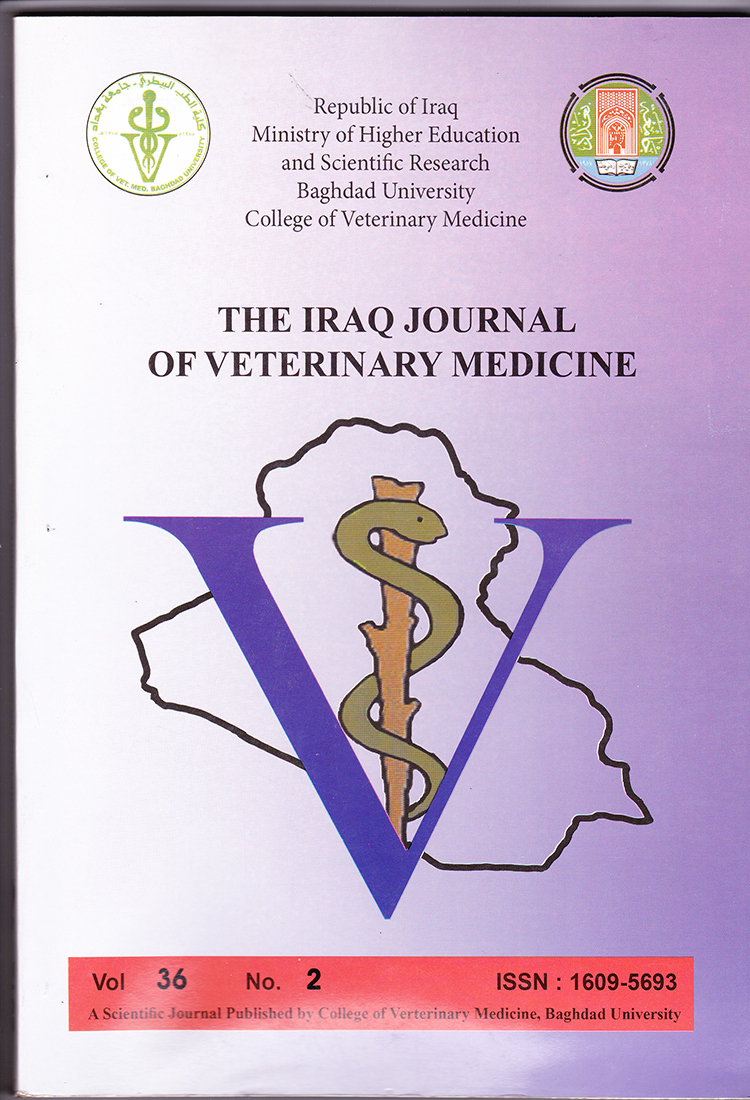 How to Cite
Ajeena, S. (2012). Effect of Bay leaves (Laurus nobilis) Plant Extracts as Anti-Oxidant on Crud Sun flower Oil. The Iraqi Journal of Veterinary Medicine, 36(2), 111-118. https://doi.org/10.30539/iraqijvm.v36i2.455