The Effects of Some Climate Factors upon Frequency Distribution of Local Sandflies Breed in Misan Province, Iraq
Rasha K A Alsaad

College of Medicine, University of Misan, Misan, Iraq

May H Kawan

College of Veterinary Medicine, Baghdad University
Keywords:
Sandflies, Phlebotomus, Climate factors, Light traps
Abstract
The genus Phlebotomus is naturally responsible for the transmission of many protozoal parasites like Leishmania. The study was conducted to determine the effect of some climate factors on sandflies distribution over a year from December 2019 to November 2020. A total of 268 sandflies of both sexes were collected from different areas in Misan province, Iraq. Sandflies were collected using light traps and stick oil paper, then placed in cups or Petri dishes containing sterile normal saline for examination. The current study showed an inverse relationship between the presence and number of sandflies with temperatures. Rainfall had a significant impact on parasite distribution, while wind speed had a potential impact on sandfly activity. The percentage of female sandflies was significantly (P<0.05) higher than that of males (54.85% for females versus 45.15% for males). In conclusion, heavy precipitation is the main climate factor that affects the frequency distribution of local breed sandflies followed by rising temperature degrees that are seen in the summer season. The climate can affect the activity, spreading, and distribution of sandflies with detected one peak of their activity in December.
Downloads
Download data is not yet available.
References
National Oceanographic Data Center (NODC). Phlebotominetaxonomy [internet]: NODC-NOAA: 1996 [Updated 2021 and Cited 2021 April 20]. Available from: https://www.nodc.noaa.gov/General/CDR-detdesc/taxonomic-v8.html
IT IS report. Taxonomic Hierarchy: Lutzomyia [internet]: Integrated Taxonomic Information System:1996 [Updated 2021; Cited 2021 April 20]. Available from: https://www.itis.gov/servlet/SingleRpt/SingleRpt?search_topic=TSN&search_value=125362#nul1.
Habeeb MA. A systematic, ecological, and microbial studies of the sandflies (Diptera: Psychodidae; Phlebotominae) in Basrah Governorate, Iraq [Dissertation]. Basrah, Iraq: College of Sciences, University of Basrah; 2005.
Abul-Hab J, Al-Hashimi W. Night man-biting activities of Phlebotomus papatasi Scopoli (Diptera: Phlebotomidae) in Suwaira, Iraq. Bull. Endem. Dis. (Baghdad). 1988;(29): 5-15.
Abul-Hab J, Ahmed SA. Revision of the family Phlebotomidae (Diptera) in Iraq. J. Biol. Sci. Res. (Baghdad). 1984(7): 1-64.
Mohsen ZH. Biting activity, physiological age and vector potential of Phlebotomus papatasi Scopoli (Diptera: Phlebotomidae) in central Iraq. J. Biol. Sci. 1983 (14):79-84.
Khyatti M, Trimbitas RD, Zouheir Y, Benani A, El Messaoudi MD, Hemminki K. Infectious diseases in North Africa and North African immigrants to Europe. Eur J Public Health. 2014;24 (Suppl) 1:47-56.
CDC. Parasites-Leishmaniasis. Biology, life cycle: Leishmania [internet]: CDC: 2021 [Updated 2021; Cited 2021 April 20]. Available from: https://www.cdc.gov/parasites/leishmaniasis/biology.html
WHO. Leishmaniasis. The disease and its epidemiology. The vector, Phlebotomine [Internet]: WHO 2020 [Updated 2020; Cited 2021 April 12]. Available from: https://www.who.int/leishmaniasis/disease_epidemiology/vector-control/surveillance/en/
Magill AJ. Leishmania Species: Visceral (Kala-Azar), Cutaneous, and Mucosal Leishmaniasis. In: Bennett J, Dolin R, Blaser MJ, editors. Mandell, Douglas, and Bennett's Principles and Practice of Infectious Diseases. 7th ed. Philadelphia: Elsevier Churchill Livingstone; 2010. p. 3468-3479.
Bravo FG. Dermatology: Infections, infestations, and bites: Protozoa and worms, Leishmaniasis. In: Bolongia JL, Schaffer JV, Cerroni L, editors. 4th ed. Elsevier: China; 2018. p. 1470-6.
CDC. Bartonella Infection (Cat Scratch Disease, Trench Fever, and Carrión's Disease). Transmission: Carrión's disease, Bartonella bacilliformis [Internet]: CDC: 2021 [Updated 2021; Cited 2021 April 20]. Available from: https://www.cdc.gov/bartonella/transmission/index.html
Ramalho-Ortigao M, Gubler DJ. Human Diseases Associated with Vectors (Arthropods in Disease Transmission). In: Ryan ET, Hill DR, Solomon T, et al., editors. Hunter's Tropical Medicine and Emerging Infectious Diseases. 10th ed. Philadelphia: Elsevier; 2020. p. 1063-9.
Akilov OE, Khachemoune A, Hasan T. Clinical manifestations, and classification of Old World cutaneous leishmaniasis. Int J Dermatol. 2007; 46(2): 132-42.
Wolff K, Johnson RA, Suurmond D. Part III. Diseases due to microbial agents. Cutaneous and mucocutaneous leishmaniasis. In: Fitzpatrick's Color Atlas and Synopsis of Clinical Dermatology. 5th ed. New York: McGraw-Hill; 2005. p. 870–877.
Torres-Guerrero E, Quintanilla-Cedillo MR, Ruiz-Esmenjaud J, Arenas R. Leishmaniasis: a review. F1000Res. 2017; 6: 750.
Khan K. Assessment of sandflies (DIPTERA: PSYCHODIDAE) diversity, seasonal abundance and leishmaniasis risk factors in DISTRICTS DIR, KHYBER PAKHTUNKHWA, Pakistan. [Dissertation]. PAKHTUNKHWA, Pakistan. Department of Zoology: University of Peshawar; 2012.
Karimi A, Hanafi-Bojd AA, Yaghoobi-Ershadi MR, Akhavan AA, Ghezelbash Z. Spatial and temporal distributions of Phlebotomine sand flies (Diptera: Psychodidae), vectors of leishmaniasis, in Iran. Acta Trop. 2014; 132: 131-9.
Elnaiem DE. Ecology and control of the sand fly vectors of Leishmania donovani in East Africa, with special emphasis on Phlebotomus orientalis. J Vector Ecol. 2011; 36 (Suppl 1): S23-31.
Boussaa S, Guernaoui S, Pesson B, Boumezzough A. Seasonal fluctuations of Phlebotomine sand fly populations (Diptera: Psychodidae) in the urban area of Marrakech, Morocco. Acta Trop. 2005; 95(2): 86-91.
Lahouiti K, lalami A, Maniar S, Bekhti K. Seasonal fluctuations of Phlebotomine sand fly populations (Diptera: Psychodidae) in the Moulay Yacoub province, center Morocco: Effect of ecological factors. Afr. J. Environ. Sci. Technol. 2013; 7(11): 028-1036.
Alten B, Ozbel Y, Ergunay K, Kasap OE, Cull B, Antoniou M, et al. Sampling strategies for Phlebotomine sand flies (Diptera: Psychodidae) in Europe. Bull Entomol Res. 2015; 105(6): 664-78.
Oliveira F, de Carvalho AM, de Oliveira CI. Sand-fly saliva-leishmania-man: the trigger trio. Front Immunol. 2013; 4: 375.
Abdulwahab AR. Genotype of cutaneous leishmaniasis in Iraq in correlation with dental broach smear and histopathological section [Thesis]. Baghdad, Iraq: College of Medicine, University of Baghdad; 2013.
Ali STM. Epidemiology of leishmaniasis in Diyala governorate through the years from 2012-2016 [Thesis]. Baghdad, Iraq: The Iraqi Council for Medical Specialization; 2018.
Coleman RE, Burkett DA, Sherwood V, Caci J, Spradling S, Jennings BT, et al. Impact of Phlebotomine sandflies on U.S. Military operations at Tallil Air Base, Iraq: 2. Temporal and geographic distribution of sand flies. J Med Entomol. 2007; 44(1): 29-41.
Al-Obaidi HS. Microbiological and pharmacological studies with a trial of vaccination against cutaneous leishmaniasis [Dissertation]. Salahaddin, Iraq: Collage of Medicine, University of Tikrit; 2000.
Talari SA, Talaei R, Shajari G, Vakili Z, Taghaviardakani A. Childhood cutaneous leishmaniasis: report of 117 cases from Iran. Korean J Parasitol. 2006; 44(4): 355-60.
Faulde M, Schrader J, Heyl G, Amirih M, Hoerauf A. Zoonotic cutaneous leishmaniasis outbreak in Mazar-e Sharif, northern Afghanistan: an epidemiological evaluation. Int J Med Microbiol. 2008; 298(5-6): 543-50.
Faulde M, Schrader J, Heyl G, Hoerauf A. High efficacy of integrated preventive measures against zoonotic cutaneous leishmaniasis in northern Afghanistan, as revealed by Quantified Infection Rates. Acta Trop. 2009; 110(1): 28-34.
Faulde M, Schrader J, Heyl G, Amirih M. Differences in transmission seasons as an epidemiological tool for characterization of anthroponotic and zoonotic cutaneous leishmaniasis in northern Afghanistan. Acta Trop. 2008; 105(2): 131-8.
Khalaf AK, Majeed SK, Naif AA. Study the prevalence and histopathological changes of cutaneous leishmaniasis in Nasiriyah city, Thi-Qar province. Basrah J Vet Res. 2016; 15(3): 520-31.
Pérez J, Virgen A, Rojas JC, Rebollar-Téllez EAR, Castillo A, Infante F, et al. Species composition and seasonal abundance of sand flies (Diptera: Psychodidae: Phlebotominae) in coffee agro-ecosystems. Mem Inst Oswaldo Cruz, Rio de Janeiro. 2014; 109(1): 80-86.
Gebresilassie A, Yared S, Aklilu E, Kirstein OD, Moncaz A, Tekie H, et al. Host choice of Phlebotomus orientalis (Diptera: Psychodidae) in animal baited experiments: a field study in Tahtay Adiyabo district, Northern Ethiopia. Parasit Vectors. 2015(8): 190.
Kasap Ö, Belen A, Kaynas S, Simsek F, Biler L, Ata N, et al. Activity patterns of sand fly (Diptera: Psychodidae) species and comparative performance of different traps in an endemic cutaneous leishmaniasis focus in Cukurova Plain, Southern Anatolia, Turkey. Acta Veterinaria Brno. 2009; 78(2): 327-335.
Tarallo VD, Dantas-Torres F, Lia RP, Otranto D. Phlebotomine sand fly population dynamics in a leishmaniasis endemic peri-urban area in southern Italy. Acta Trop. 2010; 116(3): 227-34.
Kassem HA, Siri JG, Kamal HA, Wilson ML. Environmental factors underlying spatial patterns of sand flies (Diptera: Psychodidae) associated with leishmaniasis in southern Sinai, Egypt. Acta Tropica. 2012; 123(1): 8-15.
Branco S, Alves-Pires C, Maia C, Cortes S, Cristovão JM, Gonçalves L, et al. Entomological and ecological studies in a new potential zoonotic leishmaniasis focus in Torres Novas municipality, Central Region, Portugal. Acta Trop. 2013; 125(3): 339-48.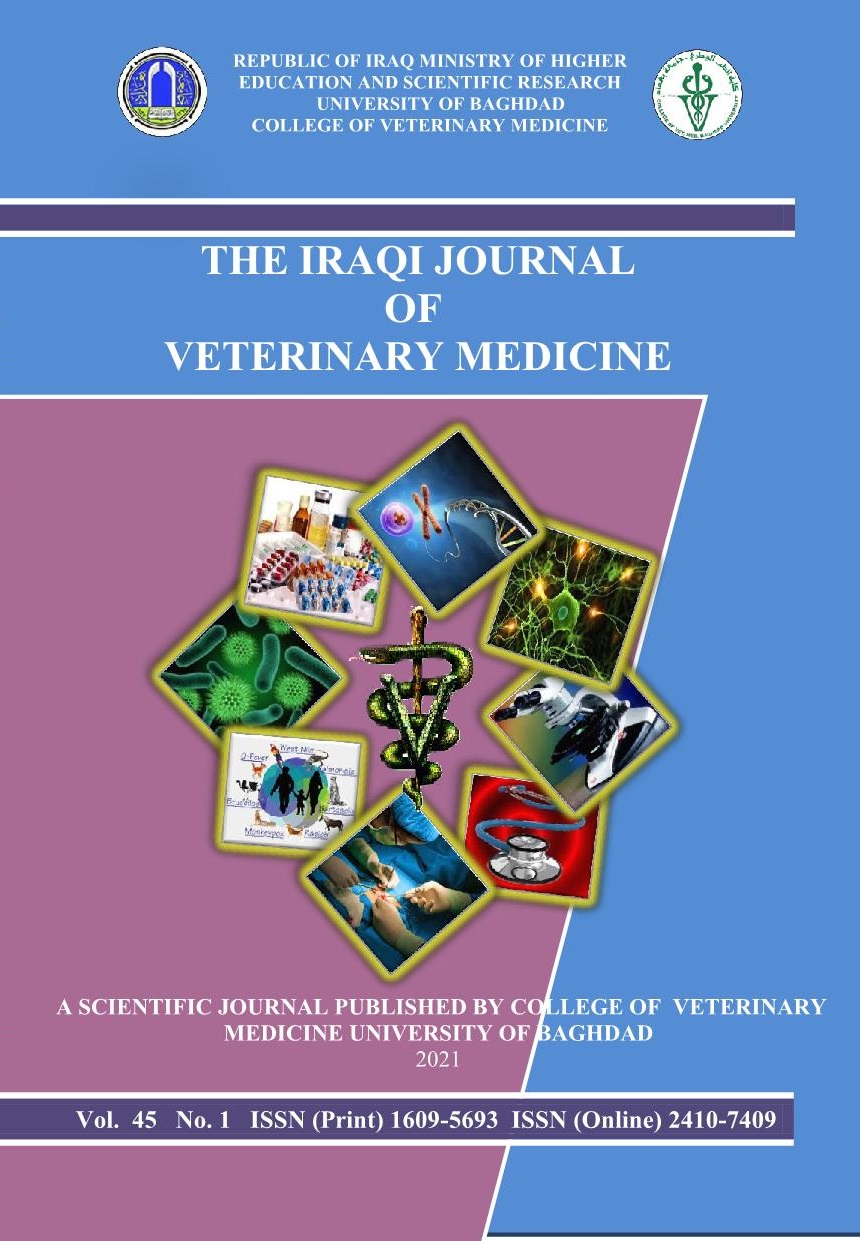 Correspondence:
[email protected]
Received: 29 March 2021
Accepted: 3 May 2021
Published: 28 June 2021
How to Cite
Alsaad, R., & Kawan, M. H. (2021). The Effects of Some Climate Factors upon Frequency Distribution of Local Sandflies Breed in Misan Province, Iraq. The Iraqi Journal of Veterinary Medicine, 45(1), 63-68. https://doi.org/10.30539/ijvm.v45i1.1044