Investigating the Effect of Three Antigens of Citrobacter freundii on Rabbit's Immune Response
Roua J Mohammed

College of Veterinary Medicine, Baghdad University

Ikram Abbas A Al-Samarraae

College of Veterinary Medicine, Baghdad University
Keywords:
Citrobacter, antigen, immunoglobulin, IL-6
Abstract
Citrobacter freundii (C. freundii) is responsible for a number of significant opportunistic infections. The present research was aimed to estimate the immune response of rabbits immunized with whole cell sonicated antigen (WCSA), lipopolysaccharide (LPS), and DNA antigens (Ag) extracted from C. freundii. Twenty-four Albino rabbits of both sexes, with 2-3 kg body weight, were divided randomly into four groups (6 rabbits for each). Two types of tests were performed including ELISA and skin test (delayed type hypersensitivity, DTH)). The 1st group was immunized with WCSA (1000 μg/mL). The 2nd group was immunized with LPS Ag at the same dose. The 3rd group was immunized with DNA extracted Ag (0.083 μg/mL). The 4th group (negative control) was injected with 1 mL PBS (pH 7.2) subcutaneously. After 14 days, rabbits were given booster doses of same Ag. The immunized animals showed significant increase of IgG and IL-6 concentration (P<0.05) following 28, 32, 46, 50 and 60 days of immunization in comparison with the negative control group. Concerning DTH, it showed an increase in the means of induration and erythema, with significant differences (P˂0.05) exerted by the concentrated antigens in all immunized groups after 24 h and 48 h compared with diluted Ag and negative control group. In conclusion, WCSA and LPS Ag, in comparison to DNA Ag, were observed to promote stronger humoral (IgG) and cellular (DTH and IL-6) immune responses. DNA Ag, on the other hand, elicited a weaker humoral and cellular immune response than other Ag.
Downloads
Download data is not yet available.
References
Yimer N, Asseged B. Aerobic bacterial flora of the respiratory tract of healthy sheep slaughtered in Dessie municipal abattoir, northeastern Ethiopia. Revue de Médecine Vétérinaire.2018;10(10);473-78.
Liu H, Zhao Z, Xue Y, Ding K, Xue Q. Fatal cases of Citrobacter freundii septicemia and encephalitis in sheep. Journal of Veterinary Diagnostic Investigation. 2018; 30(2):245–248.
Brooks GF, Carroll KC, Butel JS, Stephen A, Morse SA. Lange Medical Microbiology. 24th ed. McGraw Hill Medica: Jawetz M, Adelberg E A; 2007.Chapter 1, Immunology; p.4:832.
Lee N, Lee J, Park S, Song C, Choi I, Lee J. A review of vaccine development and research for industry animals in Korea. Clin. Exp. Vaccine Res. 2012; 1(1): 18–34.
Mermin J, Hutwagner D, Vugia S, Shallow and Daily P. Reptiles, amphibians, and human Salmonella infection: A population-based, case-control study. Clin. Infec. Dis.2004;38: S253-S261.
Knirel YA, Kocharova NA, Bystrova OV, Katzenellenbogen E and Gamian A. Structures and serology of the O-specific polysaccharides of bacteria of the genus Citrobacter. Arch. Immunol. Ther. Exp. 2002:50;379-391.
Kaper J B, Nataro J P, Mobley H L. Pathogenic Escherichia coli. Nat Rev Microbiol. 2004; 2:123-40.
Bry L, Brenner M B. Critical role of T cell-dependent serum antibody, but not the gut-associated lymphoid tissue, for surviving acute mucosal infection with Citrobacter rodentium, an attaching and effacing pathogen. J. Immunol.2004; 172:433.
Shiomi H, Masuda A, Nishiumi S, Nishida M, Takagawa T, Shiomi Y, Kutsumi H, Blumberg RS, Azuma T, Yoshida M. Gamma interferon produced by antigen-specific CD4+ T cells regulates the mucosal immune responses to Citrobacter rodentium infection. Infect. Immun.2010; 78: 2653-2666.
Quinn PJ, Markey BK, Leonard FC, Hartigan P, Fanning S, Fitz PE. Veterinary microbiology and Microbial Disease. 2nd ed. UK: Wiley–Blackwell West Sussex. 2011; Chapter 1, section2, Introductory Bacteriology; p.115-165.
Mahmoud N M. Comparative study of antigens effect prepared from Pseudomonas aeruginosa from human skin burn in immunized mice. [Thesis]. Baghdad, Iraq: University of Baghdad;2009.
Johnson KG, Perry MB. Improved techniques for the preparation of bacterial lipopolysaccharide. Can. J. Microbiol. 1976; 22: 29-34.
Dubois N, Cilles KA, Hamilton JK, Rebers PA, Smith F. Colorimetric methods for detection of sugars and related substances. Anal. Chem. 1956; 28(3): 350-6.
Bradford MM. A rapid and sensitive for the quantitation of microgram quantities of protein utilizing the principle of protein-dye binding. Analytical Biochemistry.1976;72: 248-254.
SAS. SAS/STAT. Users Guide for Personal Computer. Release 9.13.SAS Institute, Inc., Cary, N.C., USA.2010.
Ulich TR, Yin S, Guo K, Yi ES, Remick D, del Castillo J. Intratracheal injection of endotoxin and cytokines. II. Interleukin-6 and transforming growth factor β inhibit acute inflammation. Am J Pathol. 1991; 138:1097–1101.
Dann SM, Spehlmann ME, Hammond DC, Iimura M, Hase K, Choi LJ, Hanson E, Eckmann L. IL-6-Dependent mucosal protection prevents establishment of a microbial niche for attaching/effacing lesion-forming enteric bacterial pathogens. J Immunol. 2008; 180(10): 6816–6826.
Kim JM, Oh YK, Kim YJ, Youn J, Ahn MJ. Escherichia coli up-regulates proinflammatory cytokine expression in granulocyte/ macrophage lineages of CD34+ stem cells via p50 homodimeric NFk B. Clinical Experimental Immunology. 2014; 137:341-350.
Greenberger MJ, Strieter RM, Kunkel SL, Danforth JM, Goodman RE, Standiford TJ. Neutralization of IL-10 increases survival in a murine model of Klebsiella pneumonia. Journal of Immunology. 1995; 155(2):722-729.
Sutherland RE, Olsen JS, McKinstry A, Villalta SA, Wolters PJ. Mast cell IL-6 improves survival from Klebsiella pneumonia and sepsis by enhancing neutrophil killing. Journal of Immunology. 2008; 181:5598-5605.
Oladejo BO, Adebolu TT. Mechanisms of immunity to Escherichia coli O157:H7 in Albino rats: Role of homologous antibodies. European Journal of Biology and Medical Science Research. 2013; 1(2):31-39.
Al-Samarraae IAA, Kareem AA. The immune response of rabbits immunized by Salmonella typhimurium and Lactobacillus acidophilus. Iraqi J. Vet. Med. 2018. 42(1):28-34.
Tizard, IR. Veterinary Immunology, an introduction. 9th ed. Saunders Elsevier. Chapter 1, Type IV Hypersensitivity: Delayed Hypersensitivity; 2013, p.255-380.
Yousif AA, Al-Taai NA, Mahmood NM. Humoral and cellular immune response induced by E. coli [O157:H7 and O157:H7: K99] Vaccines in Mice. International Journal of Immunology Research. 2013; 3(1):17-20.
Sadeq ZE, Al-Samarrae IAA. Immune response of rabbits immunized by killed whole cell sonicated E. coli 0157 antigen and crude Klebocin. JEZS. 2017; 5(5): 82-87.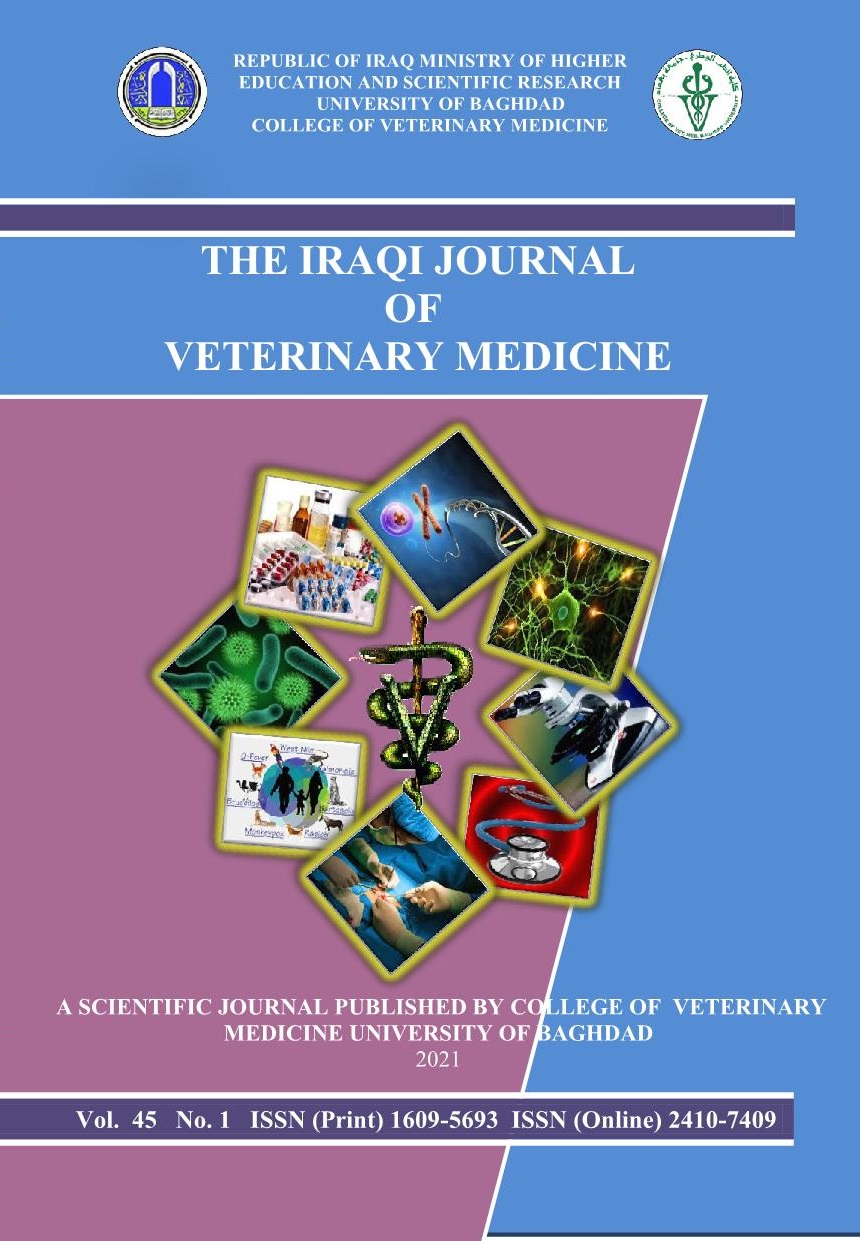 Correspondence:
[email protected]
Received: 12 January 2021
Accepted: 26 April 2021
Published: 28 June 2021
How to Cite
Mohammed, R., & Al-Samarraae, I. (2021). Investigating the Effect of Three Antigens of Citrobacter freundii on Rabbit's Immune Response. The Iraqi Journal of Veterinary Medicine, 45(1), 56-62. https://doi.org/10.30539/ijvm.v45i1.1043