Stereological and Histopathological Effects of Trigonella foenum-graecum Seeds on Rabbits Ovary
Tamara N. Dawood

College of Veterinary Medicine, Baghdad University

Ahmed S. Al-Araj

College of Veterinary Medicine, Baghdad University

Dhyaa Ab. Abood

College of Veterinary Medicine, Baghdad University
Keywords:
rabbits, ovary, Trigonella foenum-graecums, seeds, fenugreek, follicles
Abstract
This study aimed to investigate the impacts of the Trigonella foenum-graecum (T. foenum-graecum) seeds on the female gonad. A total of twenty local rabbits were used in this study; were divided into four groups (5 each): first group (G1) was considered as the control group. The second group (G2), third group (G3) and fourth group (G4) were fed daily1.5%, 3%, and 4.5% of T. foenum-graecum seeds respectively for 60 days (twice daily). At the end of the experiment, the animals were euthanized by diethyl ether (C2H52O). Then the abdomen was incised, and the samples of ovaries were collected and fixed by 10% neutral buffered formalin. The histological assessment was done with a paraffin embedding technique and the histological sections were stained with Hematoxylin and Eosin stain. The result showed that the numbers of primary and secondary follicles were significantly P< 0.05 decreased in G3and G4 compared with the control (G1) and G2. The numbers of Graafian follicles were significantly P<0.05 decreased G4 compared with other groups. The diameters of the primary, secondary, and Graafian follicles were significantly lower than the other groups. The thickness of the granulosa cell layer in G3and G4 were significantly lower than the other groups. The histological figures declared that the ovary of G2 was similar to that in G1. The histological sections of G3 and G4 were revealed marked cortical and medullary vascular congestion and focal hemorrhage; there were also marked follicular degeneration and cystic necrosis. The study concluded that the low concentration of T. foenum-graecum (fenugreek) seeds do not have any positive effect in terms of ovarian stimulation
Downloads
Download data is not yet available.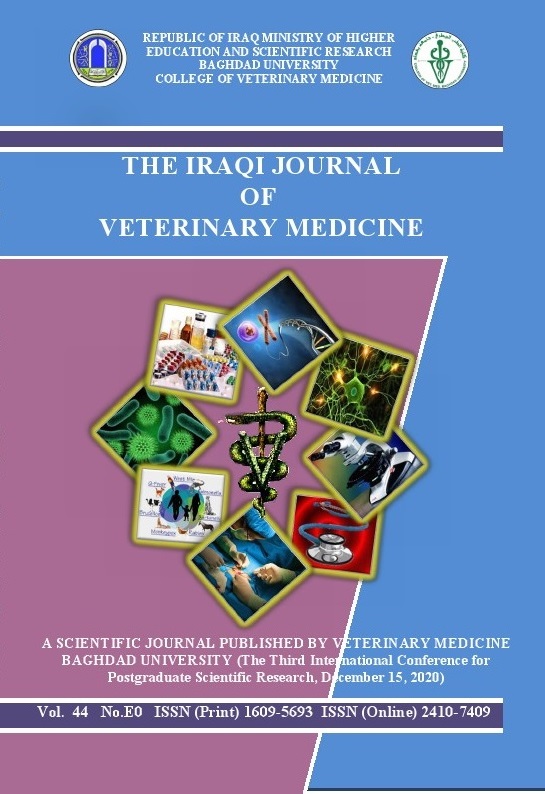 How to Cite
Dawood, T., Al-Araj, A., & Abood, D. (2020). Stereological and Histopathological Effects of Trigonella foenum-graecum Seeds on Rabbits Ovary. The Iraqi Journal of Veterinary Medicine, 44((E0), 28-32. https://doi.org/10.30539/ijvm.v44i(E0).1016