Molecular Characterization of Infectious Bursal Disease Virus Isolated from Naturally Infected Broiler Chickens in Erbil, Iraq
Ahmed I. Ahmed

College of Agriculture Engineering science, Salahaddin University, Erbil, Iraq
Keywords:
Infectious bursal disease virus, VP2 gene, agar gel precipitation test, RT-PCR, chorioallantoic membrane
Abstract
The infectious bursal disease (IBD) is a highly contagious and immunosuppressive disease of broiler chickens and the development of a new genetic variant of the virus is responsible for major economic losses in the poultry industry. For this purpose, it was essential to isolate the molecular characterization of the virus from vaccinated broiler in Erbil, Iraq. Clinically, the infectious bursal disease is characterized by high mortality (10-15%) with hemorrhagic lesions on the breast and thigh muscles, hemorrhagic and edematous bursa of diseased chickens. In this study, the Bursa of Fabricus (BF) samples were collected between June 2018 and January 2019. Histopathological changes of the bursal sections showed existence of the cystic vacuolation of the lymphoid follicles with leukocytes infiltration as pathognomic features for IBD virus infection; and homogenates samples inoculated in chorioallantoic-membrane showed mortality in the second passage with varying degrees of hemorrhages. Agar gel precipitation test (AGPT) was positive with specific antisera. Reverse transcription polymerase chain reaction (RT-PCR) and nucleotide sequence analysis of five fragments in the hypervariable region of VP2 gene revealed transition and transversion changes. Among the five recent IBD virus isolates, the rate of identity was approximately 99% as compared with the very virulent IBD virus from Iran (ID: DQ785171.1). Phylogenetic analysis revealed that the five isolates were closely related to the Asian group with a different percentage ranged from 98-99% while it was 97% in the European group. The local isolate of the virus was registered in the Genebank under the accession number MN48052.1. In conclusion, the isolated IBDVs belong to a very virulent group. In addition, this study demonstrates the spread of this virulent virus to poultry industries in Erbil, Iraq. Further widespread surveys could help in delivering more information on the virus variability and might assist in designing novel vaccines for this pathogen
Downloads
Download data is not yet available.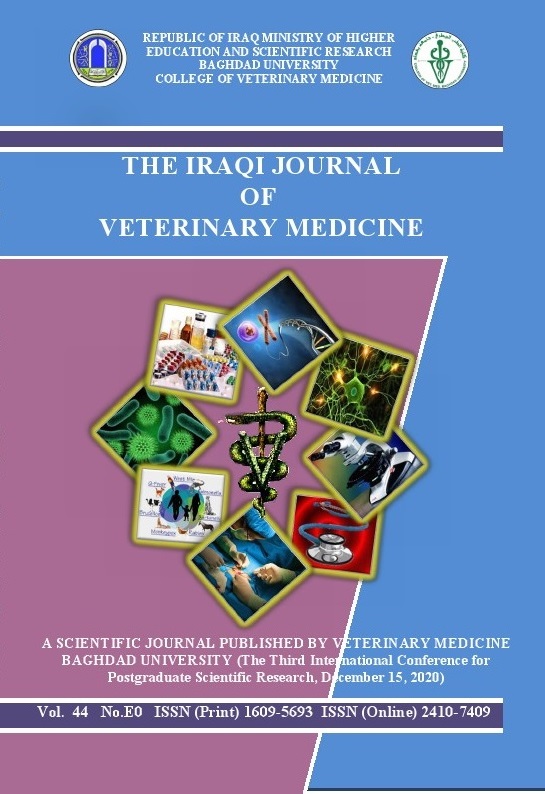 How to Cite
Ahmed, A. (2020). Molecular Characterization of Infectious Bursal Disease Virus Isolated from Naturally Infected Broiler Chickens in Erbil, Iraq. The Iraqi Journal of Veterinary Medicine, 44((E0), 21-27. https://doi.org/10.30539/ijvm.v44i(E0).1015