High Prevalence of Cryptosporidium meleagridis in Domestic Pigeons (Columba livia domestica) Raises a Prospect of Zoonotic Transmission in Babylon Province, Iraq
Mohammed K.A. Altamimi

College of Veterinary Medicine, University

Mohammed Th. S. Al-Zubaidi

College of Veterinary Medicine, Baghdad University
Keywords:
pigeons, Cryptosporidium, zoonosis, detection, nested PCR
Abstract
Cryptosporidium is one of the most common protozoan's parasites with remarkable infectivity of a wide range of animals, including mammals and birds. Domestic pigeons (Columba livia domestica) act as a potential reservoir for several species of Cryptosporidium because they live in close proximity to humans. This study was conducted to assess the genetic diversity of Cryptosporidium in domestic pigeons in Iraq. A total of one hundred samples obtained from feces of domestic pigeons in Babylon province were included. After being exposed to microbial examination, all fecal samples were subsequently screened by nested polymerase chain reaction (PCR) for the possible recognition of Cryptosporidium species. Microscopy tests detected only 14/100 (14%) of infection with Cryptosporidium, while molecular tests detected 21/100 (21%) of the same targeted parasite. Sequencing experiments showed a high prevalence of C. meleagridis with 13/21 (61.90%), followed by C. baileyi with 7/21 (33.33%), while only one infection was detected with C. hominis (1/21) (4.76%). No co-infection with mixed Cryptosporidium spp. was observed, and sex factor was not found to affect the infection rate. In conclusion, this study informed a high prevalence of C. meleagridis in domestic pigeons than both C. baileyi and C. hominis, respectively, signifying a higher zoonotic potential of C. meleagridis between domestic pigeons and their handlers. This finding may raise more questions with regard to the increasing infectivity of C. meleagridis in human. This is the first important screening study in Iraq that uses molecular methods for the detection of Cryptosporidium in domesticated pigeons.
Downloads
Download data is not yet available.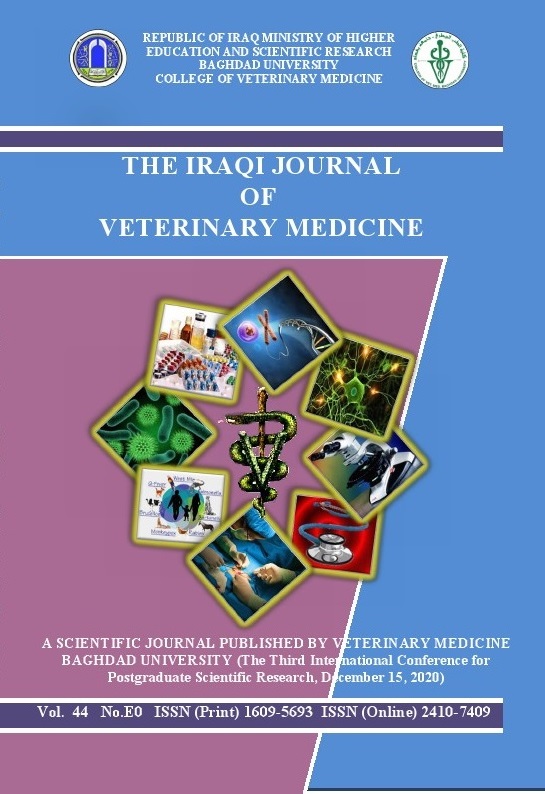 How to Cite
Altamimi, M., & Al-Zubaidi, M. (2020). High Prevalence of Cryptosporidium meleagridis in Domestic Pigeons (Columba livia domestica) Raises a Prospect of Zoonotic Transmission in Babylon Province, Iraq. The Iraqi Journal of Veterinary Medicine, 44((E0), 7-13. https://doi.org/10.30539/ijvm.v44i(E0).1012