Toxicological Effects of Aqueous Extract of Calotropis procera Leaves in Experimentally Poisoned Rabbits
Ahmad H. Al-Zuhairi

College of Veterinary Medicine, University of Diyala, Iraq

Jenan M. Khalaf Al-Ani

College of Veterinary Medicine, Baghdad University

Salah N. Ibrahim

College of Veterinary Medicine, University of Diyala, Iraq.
Keywords:
Calotropis procera, rabbits, toxicity, hematological, biochemical parameters.
Abstract
Calotropis procera it is announced to be medicinal and poisonous plant to human and animals. A toxicological effects of aqueous leaves extract evaluated experimentally in rabbits. The median lethal dose (LD50) was estimated (2435.25 mg/kg) by using the Up and Down method. Twenty-five local breed rabbits, of 1-2 years old, 1-1.9 kg b. wt. Divided randomly into five groups, five rabbits of each. Those of groupsI, II, III and IV were exposed to 1/10 of LD50 (243.5mg/kg), 1/12.5 of LD50 (194.8), 1/15 of LD50(162.4),1/20 of LD50 (121.8) mg/kg. b.w. of extract respectively for 8 weeks, while those in G.V were left without exposed as a control group. Alkaloids, saponins, tannins, cardiac glycosides, steroidal, glycoside, terpenoids and flavonoids detected in phytochemicals screening. The dependent parameter were clinical signs exhibited by animals during the study in addition to some hematological parameters Red blood cells (RBC) count, hemoglobin (Hb) concentration and packed cell volume (PCV). The main changes observed during monitoring the animals were chewing of mouth, bradycardia, engorged blood vessels, coughing and depression especially in these of G I, II and III; diminution body weight in G I; abortion in G I and II. The hematological and biochemical parameters depended showed a significant increase during the study. From this we can concluded that aqueous extract of leaves of the plant has a harmful effect in rabbits.
Downloads
Download data is not yet available.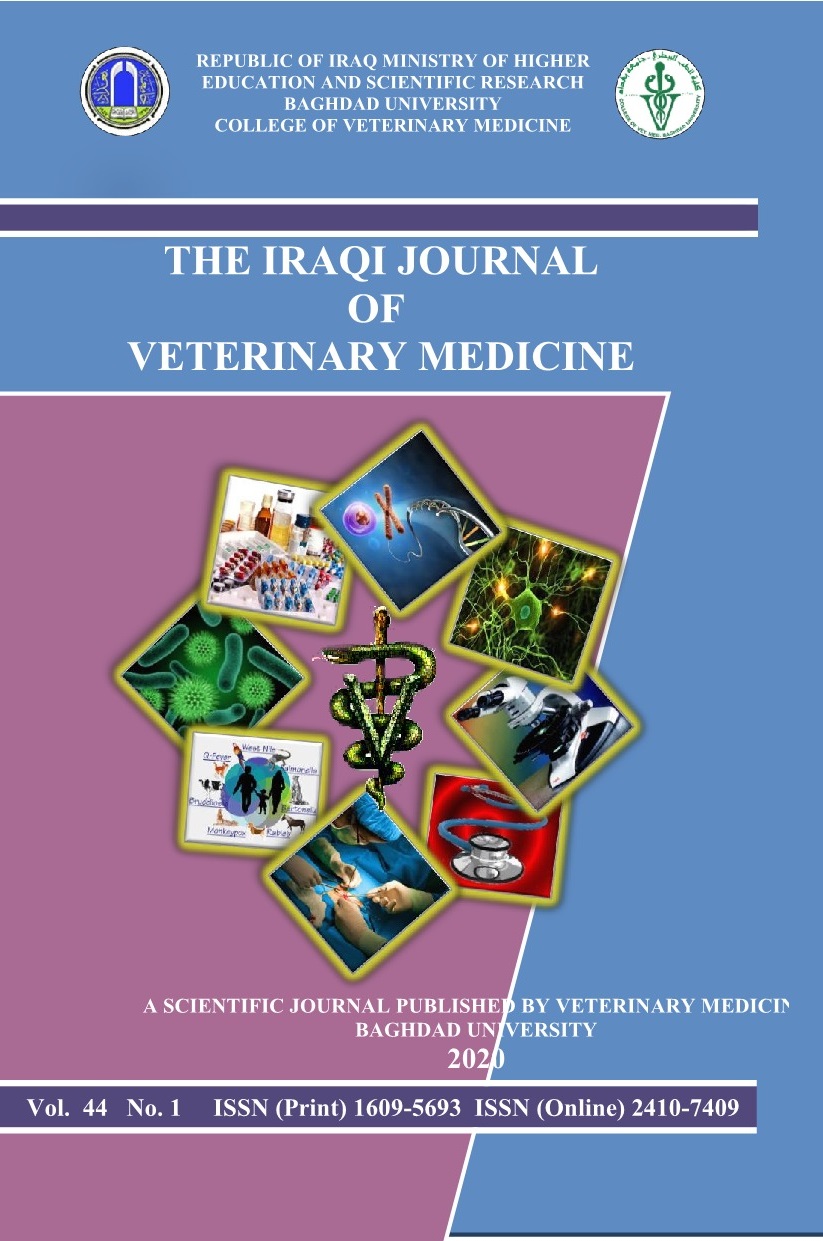 How to Cite
Al-Zuhairi, A., Khalaf Al-Ani, J., & Ibrahim, S. (2020). Toxicological Effects of Aqueous Extract of Calotropis procera Leaves in Experimentally Poisoned Rabbits. The Iraqi Journal of Veterinary Medicine, 44(1), 46-56. https://doi.org/10.30539/ijvm.v44i1.934