Intestinal Anti-Inflammatory Improvement with Fenugreek Seeds as A prebiotic and Synbiotic with Lactobacillus acidophilus in Rats Experimentally Infected with Escherichia coli
Bakheet N.Z 1, Al-Qayim M.A.J 2, Falih I.B 3 , Laith A.A4
N. Z. Bakheet

College of Veterinary Medicine, Baghdad University
Keywords:
Synbiotic, Fenugreek seeds, E. coli, Enteritis, Butyric acid
Abstract
Synergistic action of probiotics and prebiotics (synbiotic) has been suggested to be more effective than the two separate components in the prevention and treatment of many intestinal and immune diseases. The present study aimed to examine the anti-inflammatory role of Fenugreek as synbiotic with Lactobacillus acidophilus against Escherichia coli. Twenty four adult males of Wister rats aged 3-4 months and weighted 200-250 gm were used and divided into 4 groups: 1st and 2nd groups were negative and positive control (C and C++) fed with basal diet, the 3rd group (T1) fed diet with Fenugreek seeds (5%) and the 4th group (T2) fed with the synbiotic Fenugreek seeds (5%) and L. acidophilus (5 × 108 CFU/ml) for 45 days. After that, rats in the C++, T1, and T2 had induced enteritis by administrating 1 ml (2.5 × 106 cfu/ml) of enteropathogenic E. coli (EPEC O125:H6). The preventive role of prebiotic and synbiotic was evaluated depending on macro and microscopic duodenum pathological changes in correlation with butyric acid production for 7 days of infection. The results of the macro and microscopic scoring of enteritis revealed that the synergistic effects of the synbiotic in preventing E. coli enteritis was favored by an increase in goblet cells mucin secretion. This anti-inflammatory role was significantly increased by synbiotic and correlated with the production of butyric acid. The synbiotic improved the anti-inflammatory response of intestinal mucosa adaptive immunity via elevation of the immunoglobulin IgA from plasma cells. In conclusion, the inclusion of nutritional supplements containing fibers that constitute a source of butyric acid production, such as Fenugreek seeds, would improve intestinal resistance to inflammation by acting as anti-inflammatory through improving intestinal lymphoid tissues and increasing the production of IgA
Downloads
Download data is not yet available.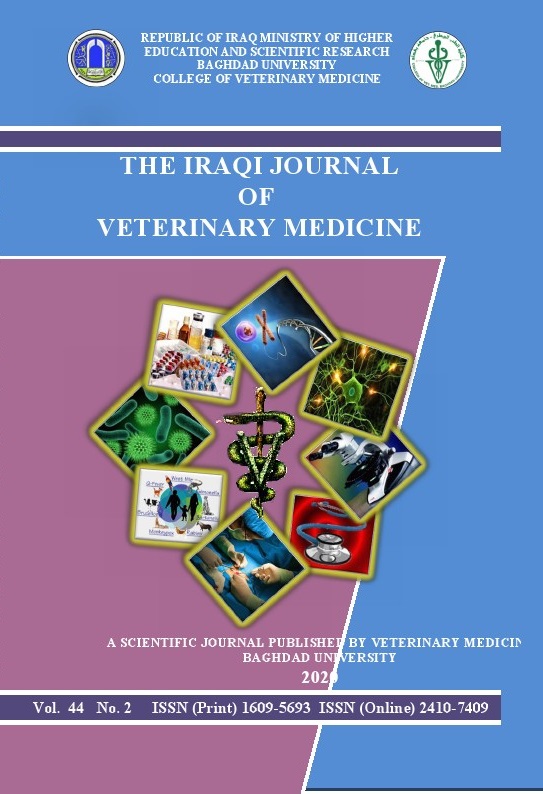 How to Cite
Bakheet, N. (2020). Intestinal Anti-Inflammatory Improvement with Fenugreek Seeds as A prebiotic and Synbiotic with Lactobacillus acidophilus in Rats Experimentally Infected with Escherichia coli. The Iraqi Journal of Veterinary Medicine, 44(2), 1-14. https://doi.org/10.30539/ijvm.v44i2.984