Evaluation the Antibacterial Activity of the Brine, Nisin Solution, and Ozonated Water Against E. coli O157:H7 in the Experimentally Local Produced Soft Cheese
Zina S Khudhir

College of Veterinary Medicine, Baghdad University
Keywords:
soft cheese, brine, E. coli O157: H7, Nisin, ozonated water
Abstract
This study aimed to evaluate the antibacterial efficacy of brine solution in compared to nisin and ozonated water treatments against E. coli O157:H7 in experimentally local produced soft cheese (ELPSC). A total of 25 raw cow milk samples were collected from farmers and local markets in Baghdad city and utilized to manufacturing 25 of ELPSC samples following the traditional procedure in rural Iraq without salting or heat treatment. Bacteriological analysis for potential E. coli O157:H7 contamination was performed and confirmed by cultural, biochemical, and serological tests. Antibacterial activity of brine solution (7% w/v), nisin solution (100 IU/mL), and ozonated water (0.6 ppm) was performed for positive samples after 2 h contact time at ambient temperature. Positive isolates of E. coli O157:H7 were detected and confirmed as 3 out of 25 cheese samples (12%), with initial average bacterial count of 6.146 log10 CFU/g. The initial bacterial count was significantly (P<0.05) reduced to 3.778, 4.380 and 4.544 log10 CFU/g when subjected to brine salting, nisin solution, and ozonated water, respectively. Cheese samples exposed to brine had a significantly (P<0.05) higher reduction in the bacterial growth than those exposed to nisin or ozonated water treatments for each alone. More effective reduction in E. coli O157:H7 bacterial growth was not observed when brining exposure time elongated at ambient temperature to 6 h. These findings may be useful in raising the public knowledge about the use of brine solution as a domestic antibacterial approach for minimizing the possible risk of E. coli O157:H7 contamination in the local produced soft cheese.
Downloads
Download data is not yet available.
References
Meshref MS, Hassan M, Riad M, Ashour A. Effect of nisin on the viability of Staphylococcus aureus in kareish cheese. Journal of Veterinary Medical Research. 2019; 26(2): 174-185.
Nunes Silva B, Cadavez V, Teixeira JA, Gonzales-Barron U. Effects of essential oils on Escherichia coli inactivation in cheese as described by meta-regression modelling. Foods. 2020; 9(6), 716.
Ababu A, Endashaw D, Fesseha H. Isolation and antimicrobial susceptibility profile of Escherichia coli O157: H7 from raw milk of dairy cattle in Holeta district, Central Ethiopia. Int J Microbiol. 2020; 2020: 8.
Rangel JM, Sparling PH, Crowe C, Griffin PM, Swerdlow DL. Epidemiology of Escherichia coli O157:H7 outbreaks, United States, 1982-2002. Emerg Infect Dis. 2005; 11(4): 603-609.
Neeha VS, Kakade SB. Use of hurdle technology in food preservation. IJEMR. 2014; 4(5): 204-212.
Shin JM, Gwak JW, Kamarajan P, Fenno JC, Rickard AH, Kapila YL. Biomedical applications of nisin. J Appl Microbiol. 2016; 120(6): 1449-65.
Li Q, Montalban-Lopez M, Kuipers OP. Increasing the antimicrobial activity of nisin-based lantibiotics against Gram-negative pathogens. Appl Environ Microbiol. 2018; 84(12): e00052-18.
Gupta G, Mansi B. Ozone therapy in periodontics. J Med Life. 2012; 5(1): 59-67.
Fitria S, Sidik MA, Buntat Z, Nawawi Z, Jambak MI, Kamarudin NN, Musa FN. Efficacy of dissolved ozone against Staphylococcus aureus and Bacillus cereus microorganism. Journal of Ecological Engineering. 2019; 20(11): 76-81.
Wani S, Maker JK, Thompson JR, Barnes J, Singleton I. Effect of ozone treatment on inactivation of Escherichia coli and Listeria sp. on Spinach. Agriculture. 2015; 5(2): 155-169.
Goburdhun D, Beeharry MD, Reega K, Ruggoo A, Neetoo H. Assessment of the microbiological quality of popular food items on sale in secondary school canteens of Mauritius. Ital J Food Saf. 2019; 8(1): 7326.
Godoy-Santos F, Pitts B, Stewart PS, Mantovani HC. Nisin penetration and efficacy against Staphylococcus aureus biofilms under continuous-flow conditions. Microbiology. 2019; 165(7): 761–771.
Food and Drug Administration of the United States Department of Health and Human Services. Evaluation and Definition of Potentially Hazardous Foods [Internet] USA: Comprehensive reviews in food science and food safety. 2003; 2: 1-81.
Omotoyinbo OV, Omotoyinbo BI. Effect of varying NaCl concentrations on the growth curve of Escherichia coli and Staphylococcus aureus. Cell Biol. 2016; 4(5): 31-34.
Williams AG, Withers SE. Microbiological characterization of artisanal farmhouse cheeses manufactured in Scotland. Int J Dairy Technol. 2010; 63(3): 356-69.
Sancak YC, Sancak H, Isleyici O, Durmaz H. Presence of Escherichia coli O157 and O157:H7 in raw milk and Van herby cheese. Bull Vet Inst Pulawy. 2015; 59(4): 511-514.
Gould LH, Mungai E, Barton Behravesh C. Outbreaks attributed to cheese: differences between outbreaks caused by unpasteurized and pasteurized dairy products, United States, 1998-2011. Foodborne Pathog Dis. 2014; 11(7): 545-551.
Cancino-Padilla N, Fellenberg MA, Franco W, Ibáñez RA, Vargas-Bello-Pérez E. Foodborne bacteria in dairy products: Detection by molecular techniques. International Journal of Agriculture and Natural Resources. 2017; 44(3): 215-229.
Kaminarides S, Moschopoulou E, Karali F. Influence of salting method on the chemical and texture characteristics of ovine Halloumi cheese. Foods. 2019; 8(7): 232.
Khudhir ZS, Hammad SM. The combined action of the nisin and lactoperoxidase system activation on the microbiological quality of raw milk with special emphasis against E. coli O157:H7 in milk. Iraqi J. Vet. Med. 2016; 40(2): 61-65.
Lee JI, Lee HJ, Lee MH. Synergistic effect of nisin and heat treatment on the growth of Escherichia coli O157:H7. J Food Prot. 2002; 65(2): 408–410.
Xu L. Use of ozone was replace to improve the safety of fresh fruits and vegetables. Food Technol (Chicago). 1999; 53(10): 58-63.
Williams RC, Sumner SS, David AG. Survival of Escherichia coli O157:H7 and Salmonella in apple cider and orange juice as affected by ozone and treatment temperature. J Food Prot. 2004; 67(11): 2381-2386.
Tsoukou E, Bourke P, Boehm D. Temperature stability and effectiveness of plasma-activated liquids over an 18 months period. Water. 2020; 12(11): 3021.
Prabha VI, BARMA RD, Singh R, Madan A. Ozone technology in food processing: A Review. Trends in Biosciences. 2015; 8(16): 4031-4047.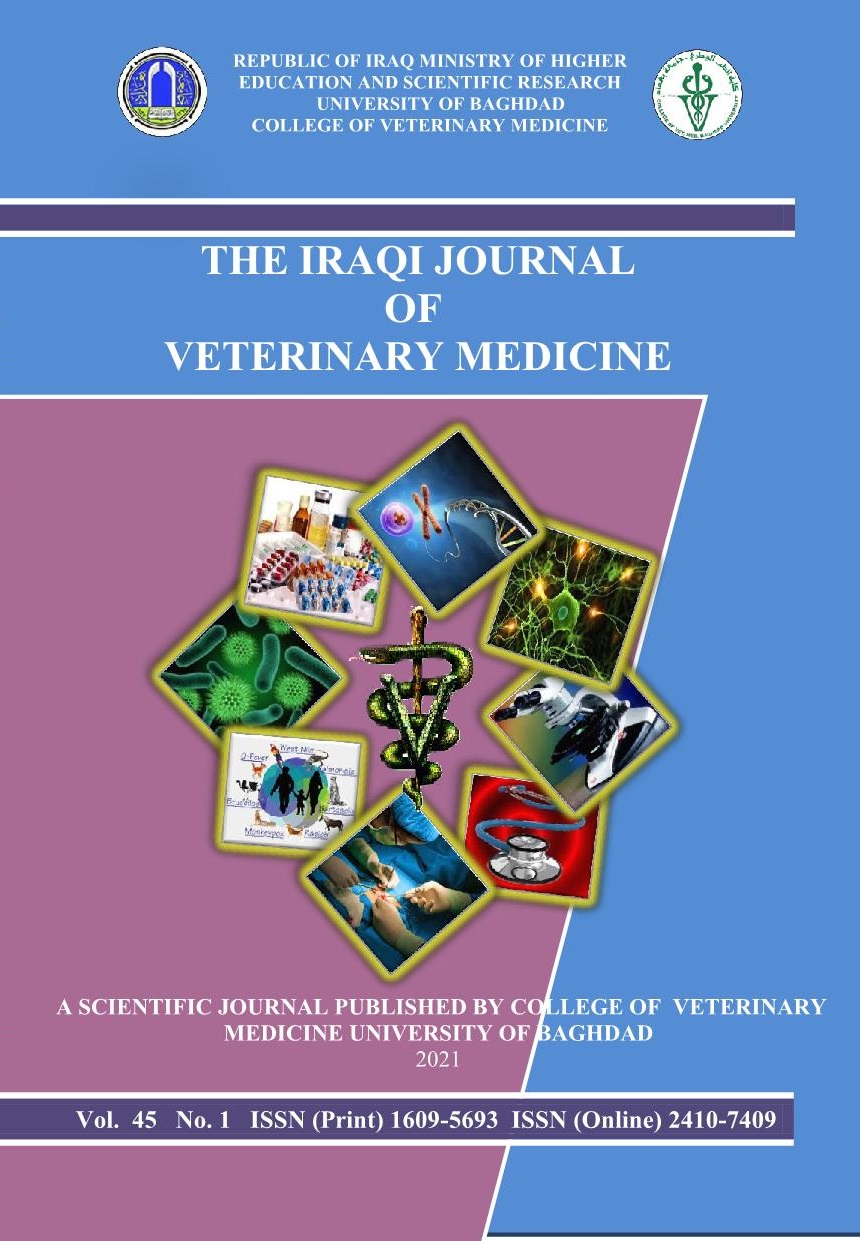 Correspondence:
[email protected]
Received: 2 September 2020
Accepted: 4 March 2021
Published: 28 June 2021
How to Cite
Khudhir, Z. (2021). Evaluation the Antibacterial Activity of the Brine, Nisin Solution, and Ozonated Water Against E. coli O157:H7 in the Experimentally Local Produced Soft Cheese. The Iraqi Journal of Veterinary Medicine, 45(1), 17-21. https://doi.org/10.30539/ijvm.v45i1.1035