Molecular Detection of Avian Malaria (Plasmodium gallinaceum) in Local Domesticated Breed Chickens (Gallus gallus domesticus) in Baghdad
Rana M. Ibrahim

College of Veterinary Medicine, Baghdad University

Haider M. A. Al-Rubaie

College of Veterinary Medicine, Baghdad University
Keywords:
Plasmodium, chickens, PCR, haemosporidian, Gallus
Abstract
This study was conducted to investigate the prevalence of avian malaria (Plasmodium gallinaceum) in the local domesticated breed chickens (Gallus gallus domesticus) that were purchased from the local markets in Baghdad city, using 100 blood samples which were collected from the wing vein, and kept in EDTA-K2 tubes for conventional PCR analysis during the period extended from 1 /10 / 2018 till 31/ 3 / 2019. Total infection rate was 18% (18/100), which were divided into males 20.00% and in females 16.00%. The eight isolates were recorded in the GenBank under accession numbers ID: MN082405.1, MN082406.1, MN082407.1, MN082408.1, MN082409.1, MN082410.1, MN082411.1, and MN082412.1 with identity 99.20 - 99.87% and with other isolates (United Kingdom and USA) 99.34 - 99.88 %. In conclusion, Plasmodium gallinaceum may have a moderate spread in local domesticated breed chicken at Baghdad.
Downloads
Download data is not yet available.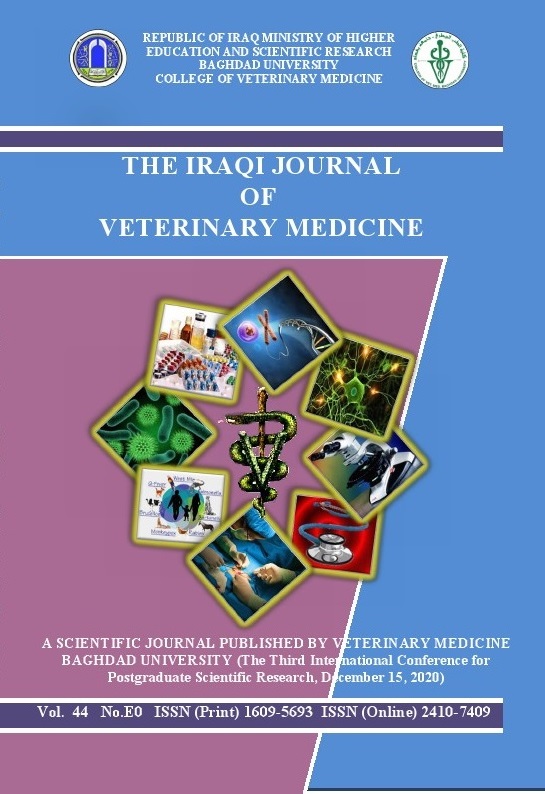 How to Cite
Ibrahim, R., & Al-Rubaie, H. (2020). Molecular Detection of Avian Malaria (Plasmodium gallinaceum) in Local Domesticated Breed Chickens (Gallus gallus domesticus) in Baghdad. The Iraqi Journal of Veterinary Medicine, 44((E0), 75-79. https://doi.org/10.30539/ijvm.v44i(E0).1025