Clinical and Biochemical Profile of Iraqi Local Breed Cows During Pregnancy and Early Lactation
Al-Bayati O.A. Shareef

College of Veterinary Medicine, Baghdad University

Oday K. Luaibi

College of Veterinary Medicine, Baghdad University
Keywords:
biochemical, Iraqi local cows, pregnanat cows, lactation
Abstract
This study was conducted in Al-Alam region, which is located in Salah Al-Din Governorate, on first month pregnant Iraqi local cows (n-10). The follow up extended from the first month of pregency up to the end of the first month post-parturituion during that some clinical and biochemical parameters were measured in the serum. Blood samples from the jugular vein of cows were collected monthly for the whole period of experiment and divided into four stages: early pregnancy, mid pregnancy, late pregnancy and early lactation immediately after birth. It was observed that the temperature, respiration rate, and heart rate increased gradually and significantly (P ≤ 0.05) with the progress of pregnancy reaching to its highest value in the last period of pregnancy and decreased after birth. The last trimester of pregnancy and the early lactation were also showed a significant decrease (P ≤ 0.05) of the phosphorus, calcium, iron and copper concentrations compared to the first and second trimesters of the pregnancy howecer, significant increasees in other biochemical values (P ≤ 0.05) were observed in urea and creatinine concentrations in the last trimester of pregnancy and early lactation. In addition to a significant decrease (P ≤ 0.05) of the ratios of concentrations of glucose, total protein, albumin and glubulin in the last period of pregnancy compared to other periods. The decrease in the value of glubulin continued until the early birth period while the study did not showed any significant difference in the concentration of bilirubin between durations. Finally, values of the ALT, AST and ALP enzymes showed significant increases (P ≤ 0.05) in thier concentrations in the last period of pregnancy. It is concluded that possible changes in the biochemical parameters of the local Iraqi cows blood during pregnancy and early lactation are existed
Downloads
Download data is not yet available.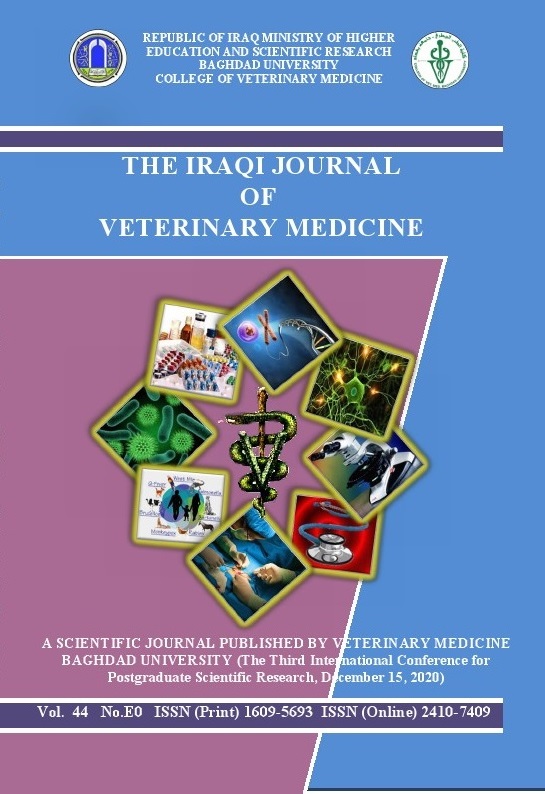 How to Cite
Shareef, A.-B., & Luaibi, O. (2020). Clinical and Biochemical Profile of Iraqi Local Breed Cows During Pregnancy and Early Lactation. The Iraqi Journal of Veterinary Medicine, 44((E0), 51-56. https://doi.org/10.30539/ijvm.v44i(E0).1021