Description of Journal
The Iraqi Journal of Veterinary Medicine is issued by the Faculty of Veterinary Medicine, the University of Baghdad, which publishes scientific research in various veterinary specialties. The journal was established in 1977 and its first issue was published in 1977, a scientific journal. In 1985, the National Journal of Veterinary Medicine was published in the National Library of Baghdad, 322, 1985. It is a bi-annual journal published in one year. It publishes the original and valuable researches related to various fields of veterinary medicine, animal production, life sciences, disease cases, research notes, and small articles. Which helped to obtain the Iraqi Veterinary Medical Journal the international standard number of the paper version P-ISSN: 1609-5693 and the international standard number of electronic version E-ISSN: 2410-7409.
The Iraqi Veterinary Medical Journal has issued 41 volumes since its establishment in 1977- 2018. To date, 54 publications have been published, including 582 in Arabic, 306 in English, and since 2015, the magazine has been published in English only.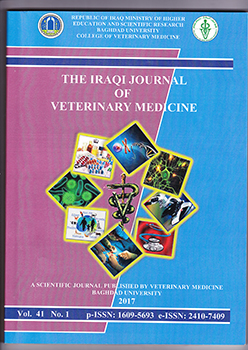 For more details refer to the secretary of the journal. All contribution should be addressed to: *Editorial Secretary of the Iraqi Journal .of Veterinary Medicine College of Veterinary Medicine / University of Baghdad on Email. [email protected] or [email protected]